A backpacker's backpack becomes a part of them, an extension of their body that carries around all their worldly belongings for weeks, months or even years on end, so it is understandable that many people want to personalise their backpack with cool decorations and accessories. If you're looking for backpack patches to stick on to your trusty backpack or luggage, check out these cool backpacker flag and badge designs!
This website contains sponsored and affiliate links. If you click through the links on this page and make a purchase, I may earn a small commission. As an Amazon Associate I earn from qualifying purchases. Thank you for your support. [Learn more]
Why Decorate Your Backpack?
When you're travelling long-term, backpacking around the world or have had the same backpack for years, it becomes one of the most important things you own, and personalising your backpack with backpacker flags and patches to represent your trips makes it even more special.
You can find backpack patches of country flags from all around the world, to show where you have travelled before. There are also lots of backpacker patches with inspirational travel quotes, cute characters and all kinds of designs which represent you, your travels, and your loved ones back home.
Not only does your backpack decorating your backpack help to remind you of wonderful memories, it also makes your backpack very easy to spot on luggage carousels, packed hostel storage rooms and anywhere else you might need to find your backpack quickly.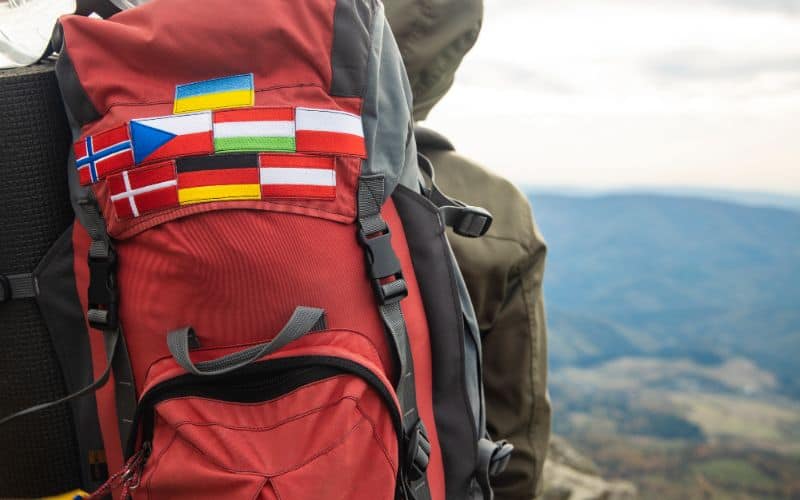 How to Attach Backpacker Flags
While pins might be great for small satchels or jackets, I don't recommend pinning things to your backpack as they can easily catch on things and might fall off, or worst get stuck and tear your backpack.
The best option for attaching flags on a backpack is to get patches which can be sewn or ironed onto your backpack.
If you want to sew on backpack patches as you travel, remember to take a mini sewing kit with you. Iron-on patches don't require you to carry any extra equipment, you'll just need to borrow an iron from your hostel or accommodation as you go.
Alternatively, collect your backpacker flags and patches as you go, and sew them on when you get back home.
These are some of my favourite backpacker patch designs, including backpack flags, cute and funny patches, hiking backpack patches and travel quotes or sayings.
I hope you like these backpacker patches, I tried to choose a range of backpacker flags, quotes and fun patches for your backpack! You can find lots more designs on
Etsy
for backpack flags and patches, and other fun handmade items too.