How to Find the Best Backpacker Accommodation Around the World
PLEASE ONLY TRAVEL WHEN IT IS SAFE AND RESPONSIBLE TO DO SO. Articles have not been updated to reflect any travel restrictions which may be in place, so please check with the destination for up-to-date information. Thank you!
Finding budget accommodation for any kind of trip, from a weekend away to a year-long backpacking trip, is an essential part of travel for almost everyone, especially backpackers. I have travelled for the last three years around Latin America and Europe, usually on a very tight budget, so I'll share all my tips for finding the best backpacker accommodation around the world, including how to find the best hostels, budget hotels, and other ways of finding a place to sleep without spending much money. You'll also find reviews of my favourite hostels and budget accommodation, so you know what to expect when you stay there.
Different Types of Backpacker Accommodation
Backpackers usually have to stick to a tight budget, generally preferring to stay in hostel dorm rooms, camp or find free accommodation where they can. Backpacking couples or backpackers with a slightly higher budget might stay in private rooms in hostels or look for budget hotels or apartments. Families and travellers with more flexible budgets have different priorities of course, so I'll focus on my experience as a solo traveller, with a backpacker budget for dorms, but still splurging occasionally on private rooms!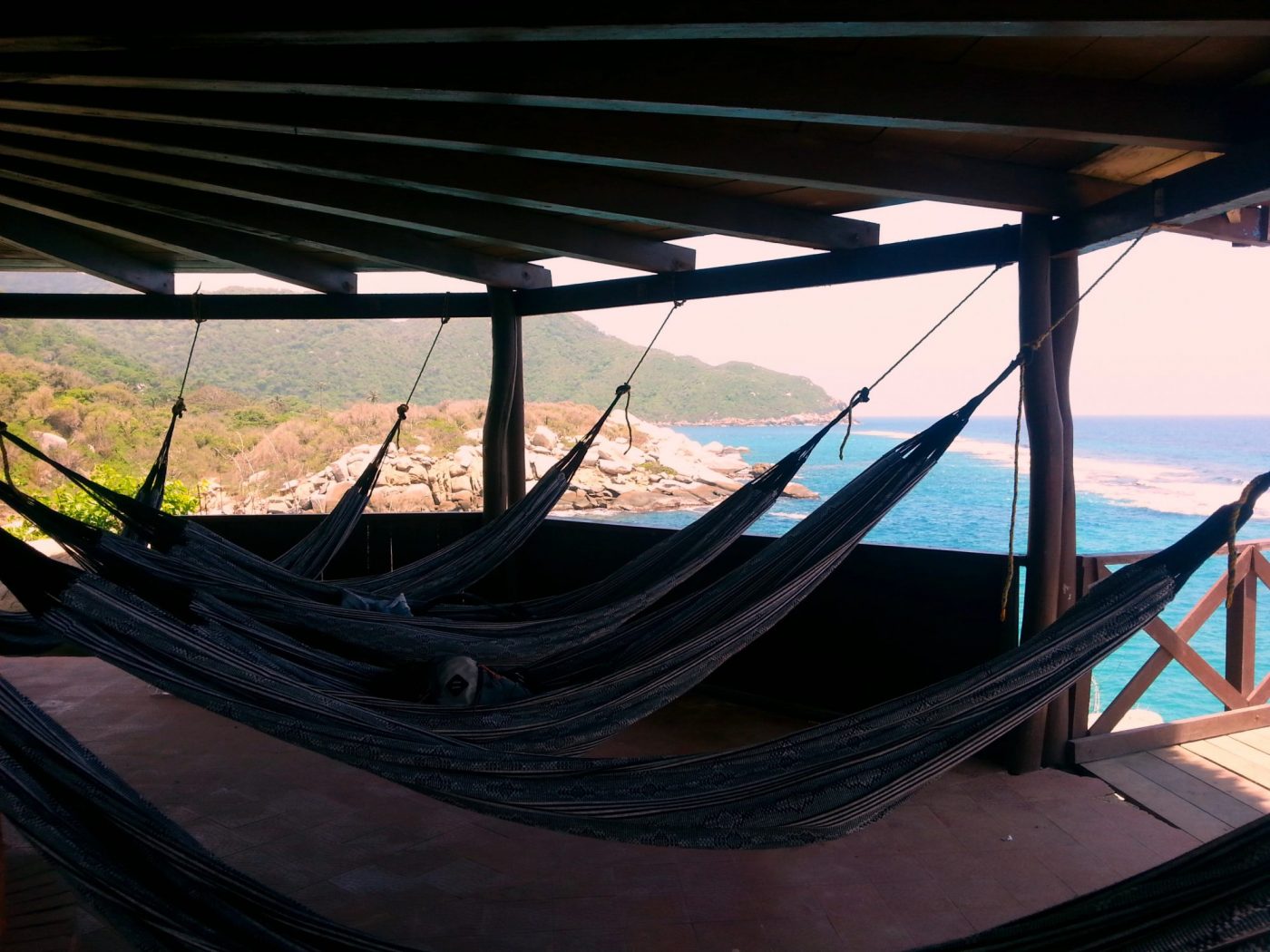 Free Backpacker Accommodation
There may be no such thing as a free lunch, but there may be a possibility for free backpacker accommodation.
Couchsurfing
Couchsurfing is the largest network of travellers and hosts who offer up a sofa or a bedroom for free, in exchange for a social and cultural exchange. This can be a wonderful way of meeting local people, experiencing a destination through the eyes of a local and not as a tourist, and making new friends. However, there have also been reports of hosts (especially men) expecting sex in return for staying at their house – some websites even have articles about how to hook up with your couchsurfer – so if you are a woman travelling alone, be very careful about who you choose to ask for a place to stay. If you don't feel like you want to stay on someone's sofa, then you can still check out Couchsurfing events where you can go along to meet people and hang out.
Volunteer Work in Exchange for a Bed
There are several work exchange websites which offer volunteer work placements in exchange for a bed, and sometimes meals too, as well as other perks. Volunteering is actually my preferred way to travel and stay for 'free' and is a great option for people looking for more long-term backpacker accommodation. Placements usually last anywhere from a couple of weeks to several months, so you can really get to know the area where you are staying. It is a win-win situation for everyone, where you give something tangible back to your hosts, help them in their business, get some great experience for your CV when you return home, and save money to extend your travels! My favourite websites for this are Workaway, WorldPackers, HelpX & WWOOF International, check out this article comparing these work exchange sites and more.
I've teamed up with Worldpackers to offer all Tales of a Backpacker readers a $20 discount, which means you only need to pay $29 USD for a full year's verified membership. Once you are a verified member you can apply to and message all the hosts on Worldpackers and volunteer all over the world. What are you waiting for?! Read more about travelling the world for free, or get your discount here!
GET $20 DISCOUNT
Cheap Backpacker Accommodation
Hostels
Hostels are a backpacker's dream and are no longer the dingy, dirty hovels of the past so you needn't be afraid of staying in hostels anymore. Hostels are changing, and there are plenty of hostels which are cleaner than your average budget hotel! Hostels aren't just for young backpackers either, I regularly stay in hostels and I'm 35 so don't worry about feeling out of place! After staying in over a hundred hostels, I consider myself somewhat of a hostel expert, so if you need some help on hostels, including how to choose the best hostel bed, tips on hostel etiquette, and even reasons why hostels are awesome (or not) then you'll find everything you need here. For booking hostels, I recommend Hostelworld, which has a huge range of hostels and other backpacker accommodation to choose from.
Home-stays
If you want to spend some time with a local family, then a home-stay could be for you. Home-stays offer a bed or a room in a family home, and often include some meals too. Learning about local culture and practising the language are some of the benefits to homestays, and the length of stay varies from a couple of nights to several weeks. If you choose to take language lessons when you travel, homestays are often offered by the language school, so you can be as immersed as possible in the language you're trying to learn. Homestays.com has a good range of options.
Budget Hotels
Sometimes, a private room in a budget hotel works out at the same price as a dorm room – crazy huh? Although I love the social side of staying in hostels, I also love finding small, family run hotels where I can get to know the people who run the hotel and get a private room to myself, like I did at the Cuna Maya Hotel in Honduras or at the Riviera B&B in Whitby. To book hotels, I use Booking, Hotels Combined or Late Rooms.
Airbnbs
I like using Airbnb in places where there aren't many hostels to choose from, like when I was backpacking in Cuba, or if I feel like I need a private room for a few days. You may also find some lovely apartments for a good price too. The style of Airbnb offerings varies dramatically, from a bedroom in someone's home, to a private apartment, or more unusual accommodation like a treehouse. Each property is different, so the quality can vary a lot too – so check the reviews carefully before you book. There are certain Airbnb tips and tricks you can use to get a discount, even if you already have an Airbnb account, check out this post for more information on getting an Airbnb discount.
If you have never used Airbnb before, use this link to sign up & get up to $40 credit to use on your first trip!
Apartments
If you are travelling with a group, or like to cook, then apartments with kitchens are very useful. Airbnb have some apartments for rent, or you can find companies such as Internesto in Brno, Czech Republic, who offer rooms in shared apartments where you can socialise if you like, cook meals, or just keep to yourself in your room.
Overlanding
Buying or renting your own set of wheels to travel can be a great way of saving money, especially in expensive destinations like Australia. While I was in Central America, I met several people who were overlanders – they had their own camper vans where they could sleep, cook food, and travel whenever and wherever they please. If you are travelling through different countries, you will need to make sure you have all the correct ownership papers, licenses and insurance to cross the borders, so make sure you do your research properly. iOverlander is a useful website with locations of safe camping sites where you can park up for the night.
Camping
Camping can be a great way to save money when you travel, as long as you have all the kit necessary for a comfortable stay. The downside is that you have to carry your own equipment, even if it's just a hammock. Alternatively, you could stay in a glamping site which usually has everything you need included, like Colobri Camping in Bolivia. If you are backpacking alone, check out these safety tips for solo camping.
Splurging on Accommodation
Sometimes, we all need a bit of luxury in our lives. And in some destinations, that luxury needn't come at a high price. In some destinations, you can find beautiful hotels for a fraction of what they would usually cost in Europe or the US. Alternatively, for a weekend away or a short holiday closer to home you might want to spend a little more to make sure you have a lovely place to stay. And why not?! To book hotels, I use Hotels Combined or Late Rooms to find the best deals on hotels.
Tips on Booking Backpacker Accommodation
If you are backpacking long term, it makes sense that you won't have a set itinerary, so won't be able to book all your accommodation in advance. I prefer to have at least one night's accommodation booked in a hostel or hotel for my next destination, so that when I arrive I know where I am going and know that I have a bed for the night. Other people prefer to rock up and find somewhere to stay once they arrive, but as a solo female traveller, I prefer not to take that risk.
If you are going somewhere for a specific festival like Carnival in Brazil, Day of the Dead in Mexico or any other holidays and busy times, you should definitely book accommodation as soon as possible as you may find everywhere is fully booked.
When you are looking for somewhere to stay, check the reviews on a reputable booking site, and/or Tripadvisor. Remember though that Tripadvisor reviews are not necessarily from people who have stayed at the property, anyone can write a review so take what you read with a pinch of salt. Booking sites have verified reviews from people who you know stayed there. Reviews from travel blogs are also handy to look at for photos and to get a feel for the hostel or hotel – and as you travel, ask other backpackers you meet for tips on your next destination.
I recommend these sites to book accommodation:
Safety in Backpacker Accommodation
I already mentioned safety briefly when talking about Couchsurfing earlier. Peer to peer booking sites like couchsurfing, volunteer sites and Airbnb potentially are more risky than booking backpacker accommodation through better regulated sites like Hostelworld or Hotels Combined for example, hence the importance of reading reviews, especially if you are backpacking alone. That said, hostels and hotels also have possible safety issues too, and if at any time you feel unsafe in any kind of accommodation, get out of there as soon as you can. Your safety is your priority.
When I book a private room, I bring a door stop with me to wedge underneath the door so I know no one can force their way in. In hotels, I always double lock the door whenever possible, and use the hotel safe for my passport and electronics. In hostels make sure you lock everything out of site in your locker. If you should have anything stolen, this post about my experience of getting robbed in a hostel in Ecuador might help!
Bed Bugs in Backpacker Accommodation
I also feel like I should mention bed bugs, which you will probably come across if you are backpacking for any length of time. Bed bugs are not necessarily an indication of poor cleanliness. They can spread quickly and are notoriously difficult to get rid of, but they can find a home anywhere from hostels to five star hotels. They don't carry diseases, but if you are bitten they can be very itchy.
Avoid putting your backpack on top of the bed, instead, keep it separate to cut down on the risk of carrying stowaway bugs with you. Check the bed and seams in the matress for any signs of bed bugs. This article from the NHS has some tips on recognition and removal of bed bugs.
Accommodation Reviews
As I travel around, I have stayed in some fabulous hostels and budget hotels (as well as some not so great ones). These are some of my favourite hostels and backpacker accommodation around the world:
What is the best backpacker accommodation you have ever stayed in? Share your tips below in the comments, I'd love to hear what you think!
Like this post? Pin it to read later:
Just to let you know, this post may contain paid or affiliate links, which help to maintain Tales of a Backpacker and give me the chance to keep travelling, and to keep creating awesome content for you!
Tales of a Backpacker is a participant in the Amazon Services LLC Associates Program, an affiliate advertising program designed to provide a means for sites to earn advertising fees by advertising and linking to Amazon.com. I only recommend goods and services I believe are useful and reliable.
Last updated: December 6, 2019