Don't we all love to travel for free? For this post, I asked Michelle from That Texas Couple to share her recommendations for the free best things to do in New Orleans. Michelle's tips will help you to visit New Orleans on a budget and get the very best of the city without breaking the bank!
The city of New Orleans is a diverse melting pot of history and culture. Visitors flock to this amazing city to taste the delicious Cajun food, experience an incredible music scene, and immerse themselves in New Orleans culture.
This site contains affiliate links. I may receive a commission for purchases made through these links. As an Amazon Associate I earn from qualifying purchases. As an Airbnb Associate I earn from qualifying bookings.
[Learn more]
It doesn't matter if you are spending 3 days in New Orleans, or 3 weeks, this town has plenty to keep you entertained. Finding things to do in New Orleans is easy, but they can quickly break the bank if you aren't careful. Lucky for you, we have compiled this list of free things to do in New Orleans to help you enjoy your time without spending a fortune.
The Best Free Things to do in New Orleans
Jackson Square
Historic buildings, vendors peddling their colorful artworks, and the sounds of jazz ringing through the air, surround the iconic and picturesque square in New Orleans. Located right in the heart of New Orleans, across from the infamous Café du Monde, Jackson Square is one of the perfect free things to do in New Orleans. It is here that you can get a true taste for the spirit of New Orleans.
Named for the bronze statue of Andrew Jackson that is located in the center of the square, Jackson Square is a great place to not only learn some New Orleans' history but also a fabulous place to do some people watching.
Read all about the history of the square on the plaques that you will find surround it. Take note of the beautiful architecture surrounding the square, specifically the oldest apartments in the United States, the Pontalba Apartments. Visitors can also enjoy browsing the art that lines the fences of Jackson Square. Some truly notable artists started right here in this very area.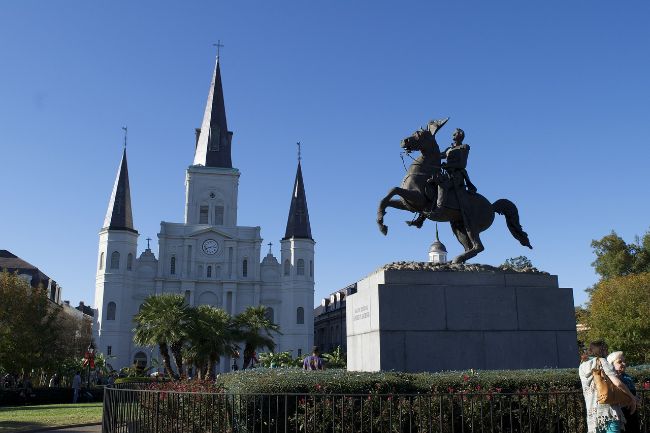 St. Louis Cathedral
Located next to Jackson Square, St. Louis Cathedral is open to the public to visit free daily. This church is not only historic, but it is also beautiful!
YOU MAY ALSO LIKE: The Ultimate USA Bucket List
Visit the Carousel Bar
Located in one of the haunted hotels in New Orleans, the Carousel Bar is like no other bar that you have ever seen. Housed in the Hotel Monteleone, the Carousel Bar is a New Orleans hot spot. Get here early if you want a seat as this bar fills up fast. Once you get inside, you realize why. This bar is an actual full-size carousel.
French Market
What began as a Native American trading post has transformed into one of the most popular tourist destinations in New Orleans. This open-air market is home to numerous vendors selling everything from fresh-shucked oysters to Mardi Gras beads.
The booths here welcome visitors daily to eat delicious food and browse for that perfect souvenir. On Wednesdays and Sundays, the market also houses a Farmer's Market where you can find fresh fruits and vegetables and homemade pralines.
While visiting the French Market area, be sure to check out Dutch Alley also. Located at Dumaine and St. Phillips Street, Dutch Alley is a great pedestrian walkway that houses bronze statues, fountains, a performance stage, and is home to the Dutch Alley's Artist Co-op.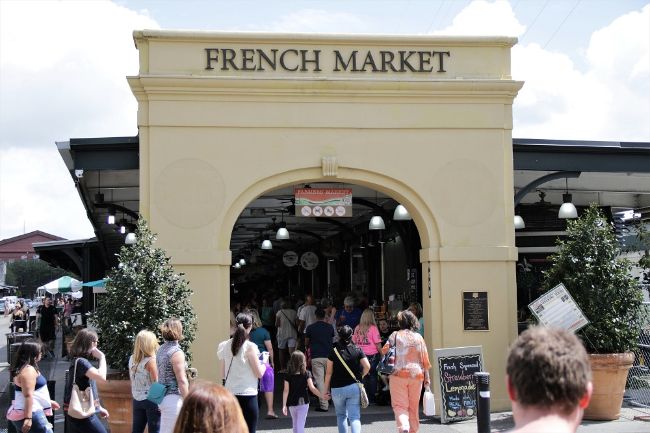 Visit Art Galleries
Royal Street is home to numerous art galleries that love for visitors to come in and admire the work of the artists. Here you can find everything from oil painting to incredible photography. Frank Relle Photography house some incredible New Orleans photography and is a favorite among photography lovers. Other popular galleries include Gallery Burguieres, Rodrigue Studio, and Tresor Gallery.
YOU MAY ALSO LIKE: Free Things to do in Austin Texas
Frenchmen Street
If you love live music then you will definitely want to add Frenchmen Street to your list of free things to do in New Orleans. Just walking down Frenchmen Street is an adventure. Music from every genre pours out of the doors of the clubs that surround you. Find your favorite tune and pop in to see who is playing for the evening to catch some great live music while in New Orleans.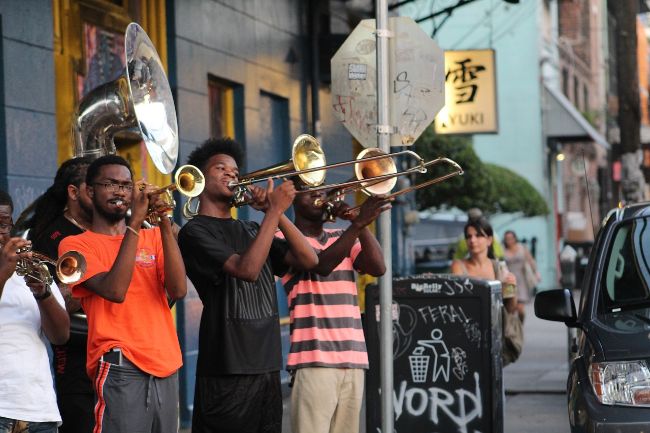 Antique Shopping
Another one of the free things to do in New Orleans is to visit the many antique shops that you will find in the French Quarter and surrounding the city. The antique stores in New Orleans are so unique and house amazing treasures just waiting to find a new home.
You will find some of the most popular antique stores right in the heart of the French Quarter on Royal and Chartres streets. Here, the antique stores line the road offering things like 19th-century furniture, rare collectibles, and one-of-a-kind New Orleans antiques.
YOU MAY ALSO LIKE: Free Things to do in New York City
Houses of the Garden District
No visit to New Orleans is complete without visiting the tree-lined streets of New Orleans' Garden District. The antebellum houses here ooze charm and carry a magnificent air that mesmerizes everyone who visits.
While there are several guided tours of the Garden District, you can also do a free, self-guided tour of the area. Be sure and visit the famous houses in this area including the house where they filmed the American Horror Story's Coven. Sandra Bullock also has a home here, so don't forget to add that one to your list.
Woldenberg Riverfront Park
Stroll down the Riverfront along the Mississippi River and enjoy all of the sights and sounds of the River.
How to Travel WITH NO MONEY EBOOK
Discover 38 EASY WAYS TO TRAVEL FOR FREE so you can enjoy more travel – even if you're totally broke!
City Park
A visit to New Orleans' City Park is a great escape from the hustle and bustle of the city. Originating in 1854, this is the nation's oldest urban park. Encompassing 1,300-acres, this is not only a place to come and enjoy the great outdoors, but City Park also houses several events a year.
The major attraction to this park is the gorgeous live oak trees, including one that is almost 800 years old. City Park also houses a great Botanical Garden, a sculpture garden, and a great wooden carousel.
Historic New Orleans Collection
Lovers of history, culture, and art will definitely want to visit the Historic New Orleans Collection. This museum provides self-guided tours free, so be sure to check it out.
YOU MAY ALSO LIKE: Free Things to do in Boston
Visit a Cemetery
New Orleans is famous for its above-ground cemeteries and all but one are free to enter. Take time to visit the St. Roch Cemetery, St. Patrick Cemetery, and the Lafayette Cemetery No. 1 just to name a few.
Attend a Parade
New Orleans seems to always have a celebration happening, and many times, these celebrations include parades. Of course, everyone knows about the famous Mardi Gras parades held here, but New Orleans is also home to fabulous Easter parades and St. Patrick's Day parades. Joining one is easy and one of the fun free things to do in New Orleans.
YOU MAY ALSO LIKE: Free Things to do in Las Vegas
Mardi Gras Museum
The Mardi Gras Museum is a fabulous way to immerse yourself in the history of the New Orleans Mardi Gras tradition. Not only are there exhibits of elaborate costumes, but there is also a "costume closet" so that you can get in on the fun yourself.
Madame John's Legacy
Architect and history lovers will love visiting Madame John's Legacy. This collection of 18th-century French-colonial buildings will have you mesmerized.
The complex consists of three buildings that include the main house, a kitchen area with cook's quarters, and a two-story dependency. This is one of the last remaining building complexes in the nation like this.
Final Thoughts on Free Things to do in New Orleans
As you can see, there are so many free things to do in New Orleans that you could stay busy for weeks. The city of New Orleans is full of mystery and intrigue and just waiting for you to explore it further.
Where to Stay in New Orleans
To be in the heart of the action, the French Quarter is a fun place to stay, although staying just outside the neighbourhood you will be steps away yet shouldn't be bothered with the late-night party noise! This lovely home is in an excellent location and gets great reviews too. This cottage suite is more like a hotel stay and could be the perfect haven for you after a busy day sight-seeing.
Solo travelers should check out this cute Tiny House, or if you prefer to be in the beautiful garden district, this new build-apartment has free on-street parking and gets excellent reviews. Take a look at all of the Airbnbs in New Orleans here.
FIND ACCOMMODATION IN NEW ORLEANS
About the Author
Michelle Snell is a travel writer, history buff, wine lover, and enthusiast of different cultures. While she is a professional educator by day, her passion for travel has her jet setting all over the world. Michelle enjoys bringing places to life through her informative writing style on her blog, That Texas Couple. Her practical tips and suggestions help make travel dreams a reality while immersing her readers in the history, culture, and food of a region. She is happiest sipping wine in Italy or chilling on a beach with her husband, Marty. Follow along with the adventures of That Texas Couple on Instagram, Twitter & TikTok.
If you're looking for travel insurance for your trip to Ireland, get a quote now from World Nomads.
Like this post? Pin it to read later:
Just to let you know, this post may contain paid or affiliate links, which help to maintain Tales of a Backpacker and give me the chance to keep travelling, and to keep creating awesome content for you! I only recommend goods and services I believe are useful and reliable.
Last updated: January 13, 2021