Continuing the series covering cities in North America, Lora from Explore with Lora has put together this post about the best free things to do in Toronto. Once it is safe to travel and explore the city, these are some of the best things to do in Toronto on a budget!
Toronto has a reputation for being notoriously expensive to live in, but there are actually several free things you can do here as a visitor. If you're planning a trip to Canada's largest city, save some money and check out these ten free things to do in Toronto.
This site contains affiliate links. I may receive a commission for purchases made through these links. As an Amazon Associate I earn from qualifying purchases. As an Airbnb Associate I earn from qualifying bookings.
[Learn more]
The Best Free Things to do in Toronto
Take Part in a Free Festival
If you are visiting Toronto during the summertime, there are a number of festivals and events that you can attend for free. Harbourfront Centre hosts free outdoor concerts all summer, often featuring performances by internationally renowned acts. All through June, Pride is celebrated throughout the city with free street parties on Church St.
Most neighborhoods in Toronto also each host a weekend celebration during the summertime, with local shops and restaurants setting up space on a pedestrian-only street. For a comprehensive list of events, check out this guide on 101 things to do in Toronto in the summer.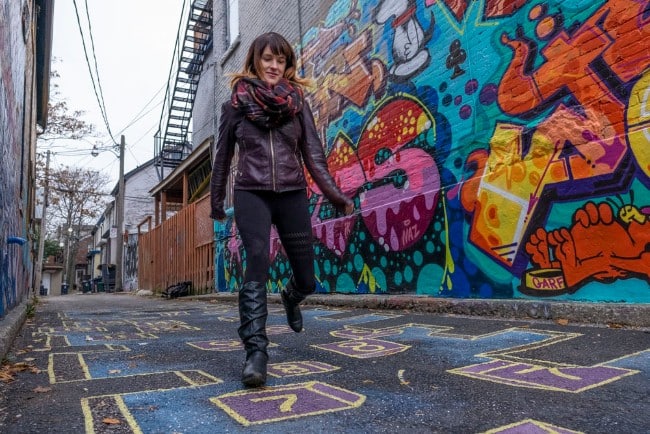 Visit the Art Gallery of Ontario
Toronto is home to The Art gallery of Ontario (AGO), which is one of the best galleries in Canada. It has an impressive collection of classic and contemporary art from around the world.
The best part is, admission is free for anyone 25 years and younger. (Be prepared to show ID if you are between 18 and 25). No worries if you're over 25 years old, the AGO has free admission for everyone on Wednesday nights from 6 to 9 PM.
YOU MAY ALSO LIKE: Free Things to do in Vancouver
Enjoy Toronto's Parks
It's not just a concrete jungle, Toronto has many lovely parks you can enjoy for free. If you're visiting Toronto during spring, head to High Park to see the cherry blossoms in full bloom.
The peak time for cherry blossoms is usually Early May, depending on the weather that year. It's an attraction that draws thousands of people, so prepare for big crowds.
Even if you're not visiting Toronto during spring, High Park is still a great place to go. With over 400 acres of outdoor space, there are a number of beautiful hiking/biking trails to go on, as well as a small outdoor zoo where you can see alpacas. Pack a picnic and spend the day!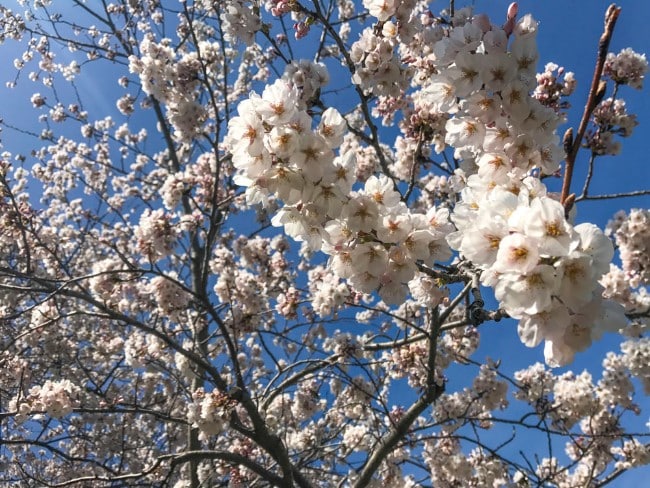 Free Things to do in Toronto – Ice Skate in the Winter
If you're visiting Toronto during the wintertime, there are still ways to enjoy the city for free. All of the city's outdoor skating rinks are free to use.
This includes Nathan Philips Square which has a live DJ on the weekend as well as on-site skate rentals. Grab your skates and bundle up – this is a great way to stay warm and active during the wintertime.
YOU MAY ALSO LIKE: Free Things to do in Montreal
Explore Toronto Island
As long as you can scrape together the ferry fare (CAD$8), it's completely free to enjoy Toronto's beautiful island. To get to the islands, catch the 13-minute ferry from the Jack Layton Ferry Terminal at the foot of Bay St. and Queens Caye.
You can also take a 'Tiki Taxi" from Queens Quay and Spadina for $10, which is an entertaining way to reach the island. The boats are 'tiki' themed, playing Caribbean inspired music along the way.
Toronto Island becomes an oasis in the summertime, where city dwellers come to bask under the sun and swim in the lake. There's even a clothing-optional beach at Hanlon's point.
The ferry is free to take back to the city and is an ideal place to get amazing pictures of the Toronto city skyline. Time your return visit with the sunset for an even better view.
Visit Allan Gardens
If you get cold walking around Toronto, step inside the tropical Allan Gardens Conservatory. It's a beautiful greenhouse space that's over 16,000 square feet and completely free to visit.
Inside the greenhouse, you can see lush plants from all over the world, including palm trees, orchids, cacti, and bamboo.
YOU MAY ALSO LIKE: Free Things to do in Detroit
Explore the Neighborhoods of Toronto
One of the best parts about Toronto is how many different neighborhoods there are to explore. You could spend a few days just walking around visiting them all.
One of my favorites is Kensington Market, which is an excellent place for thrifting. On every last Sunday of the month in the summer, Kensington Market hosts 'pedestrian Sundays', where cars are banned and the street becomes alive with people.
Nearby to Kensington market is Graffiti Alley, a kilometer-long stretch of unique graffiti murals. It's the perfect place to take colorful photos in Toronto. There are also free walking tours you can join in Toronto, which will take you through the waterfront, financial, and entertainment districts.
Another great place to walk around in Toronto is the Distillery District, a quaint area with cobblestone streets and historic distilleries. The Toronto Christmas Market starts in December, turning the Distillery District into a magical winter wonderland. Admission to the Christmas market is free on weekdays.
Visit St. Lawrence Market
If the weather isn't great outdoors, a fun way to spend a few hours in Toronto is perusing through the St. Lawrence Market. The market is made up of three historic buildings that house an antique market, food market, and public space.
In total, there are over 120 vendors at the market including some delicious food options. St. Lawrence Market is also a great place to grab a cheap lunch in Toronto, so take your pick from the vendors and tuck in.
YOU MAY ALSO LIKE: Free Things to do in Chicago
Free Things to do in Toronto – Take a Hike
Did you know Toronto is home to Canada's largest urban national park? Rouge park is free to enter, and there are plenty of hiking trails to explore around the park. You can even camp there overnight. There is also a free bus that runs from downtown Toronto to Rouge park.
Another good place for hiking in Toronto is the Scarborough Bluffs, which are just 16km from downtown Toronto. It's a stretch of coastline eroded by Lake Ontario over thousands of years, which has left a beautiful sand cliff. The escarpment stretches 15km across Scarborough, with stunning views of Lake Ontario below.
Bike the City
One of the best ways to get around Toronto is by bike. The public transportation system is crowded and traffic is horrendous, so biking is the quickest way to get around downtown. And it's free!
Toronto is a bike-friendly city with bike lanes around the city, as well as a bike-sharing program. There are 465 bike stations around the city, where you can pick up and drop off the bike as needed.
If you need to escape the bustle of the city, there are some beautiful nature trails you can go biking (or hiking) in Toronto. Behind the busy streets, there is a large ravine system that is an oasis for local residents. Humber Valley and Crothers Woods are two of the most beautiful ravines to explore in Toronto.
I hope these free things to do in Toronto have helped you realise that you can enjoy the very best of Toronto on a budget, so as soon as it is safe to do so come on over and explore!
About the Author
Lora is a solo female adventure travel blogger living nomadically around the world. Raised on a rock in the middle of the Atlantic Ocean, she has a deep love for nature and wildlife. Lora has traveled to over 55 countries and is on a quest to visit them all, seeking out the best adventures each one has to offer. For more adventure travel inspiration and solo female travel tips, visit her blog at Explore with Lora or on any of her social media channels: Instagram | Facebook | Twitter | Pinterest
If you're looking for travel insurance for your trip to Toronto, get a quote now from World Nomads.
Like this post? Pin it to read later:
Just to let you know, this post may contain paid or affiliate links, which help to maintain Tales of a Backpacker and give me the chance to keep travelling, and to keep creating awesome content for you!
Tales of a Backpacker is a participant in the Amazon Services LLC Associates Program, an affiliate advertising program designed to provide a means for sites to earn advertising fees by advertising and linking to Amazon.com. I only recommend goods and services I believe are useful and reliable.
Last updated: May 17, 2020