Great Britain isn't the cheapest destination to visit, but it needn't cost the earth. If you're planning to come backpacking in England or simply want to travel Britain on a budget there are a few tricks that can help your hard-earned cash go further. Check out my tips for travelling in the UK on a budget, with these recommendations for the cheapest way to travel in England!
*This site contains affiliate links. If you click through the links on this page and make a purchase, I may earn a small commission. As an Amazon Associate I earn from qualifying purchases. Thank you for supporting Tales of a Backpacker.[Learn more]
My Top Tip for Backpacking in England
If you plan to spend a while exploring England (like more than two weeks), then you should consider a work exchange. Work exchanges are a great way to save money while travelling as you get free accommodation in exchange for a few hours of work.
Work exchange websites like Worldpackers have listings of available placements that you can check out, and they are offering all Tales of a Backpacker readers a $10 discount on yearly membership. Sign up here or get more information about how work exchanges work here.
Cheap Travel to England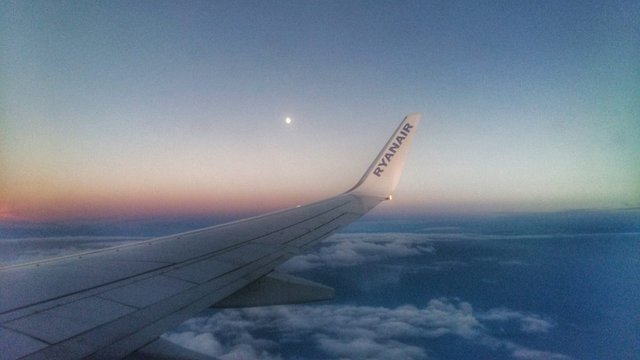 Cheap Flights to England from Europe
Thankfully, there are plenty of cheap airlines that fly into the UK from Europe. Easyjet, Ryanair, Vueling and others all have cheap flights to England and the rest of the UK, depending on your starting location – but as with any airline, their prices change drastically depending on demand.
Peak times around summer holidays, Christmas and school holidays always cost more than off-peak dates, and can even cost more than traditional airlines.
Book your flights in advance when you can, and be flexible on the dates you fly and the airport you fly to. I always use a flight comparison site like Skyscanner to find the best deals and airports. Skyscanner has a useful function to check dates around your preferred day, as well as nearby airports.
Remember to plan your travel from the airport to your destination before you book the flight – often the cheapest flights land at a time when there is no public transport available, so once you've factored in a taxi fare, that cheap flight doesn't seem like such a bargain!
Cheap Flights to England from The USA
Travelling to the UK from the US, or other further afield destinations obviously isn't as cheap. Look out for flight deals and so-called 'error fares' in advance, and try to be flexible on the dates you fly. You could also consider flying into another European city then taking a low-cost European flight or bus to reach the UK.
US airports on the East Coast like Boston, Newark or New York tend to be cheaper to reach Europe, as they're closer, so you could take a cheap internal flight to one of those airports before taking the international flight. Try searching on a flight comparison site like Skyscanner to find cheap flights to the UK from America.
Cheap Buses to England
There are a few international bus services, for example, OuiBus and FlixBus, where you can find good deals if you are prepared for a long journey, and potential traffic jams. The buses are comfortable, are equipped with toilets, and usually free wifi and plug sockets too, although this isn't guaranteed on FlixBus. You can also check routes and prices on Omio.
OuiBus has European sockets, so remember to bring a converter if you need one. Travelling overnight also helps to save money on a night in a hostel or hotel, so taking a bus is usually the cheapest way to travel to England!
READ MORE: Cheap Places to Visit in the UK on a Budget
Cheap Travel to England by Ferry
Ferries to England operate from surrounding countries like France, the Netherlands, Belgium, Ireland and Spain. Personally, it's not my favourite way to travel due to seasickness, but booking an overnight ferry can also save you money on accommodation and become part of your trip, more than just a flight to a destination.
Journeys tend to be long and can get rough in poor weather – but in good weather, think of it as a mini cruise. I haven't used them myself, but there are ferry journey comparison sites like Ferries.co.uk which list available routes.
Cheap Travel in England

Cheap Bus Travel in England
Bus travel is the cheapest way to travel in England, in particular using Megabus which offers some routes for as low as £1. They don't cover all routes though, so it depends on your destination, but for value, they really are hard to beat!
Book your tickets online, and be sure to be at the bus station in plenty of time for your journey to be first in line and get your pick of the seats.
Within towns & cities, most bus companies will offer a 'Day Rider' ticket which is usually cheaper than buying a return and means you can ride anywhere on that bus company during that day.
Some cities like Sheffield, Manchester and Newcastle have tram and metro services which are usually easier to navigate than complex bus routes, and of course, London has the underground which can seem complicated at first but is easy once you figure it out! Buses are the cheapest way to travel in London, although it does take longer than the underground.
YOU MAY ALSO LIKE: How to Fall in Love with London in 2 Days
Cheap Train Travel in the UK
Train prices can vary dramatically depending on the route and the time of day you want to travel. British rail companies like you to be organised, so booking your train in advance can mean vast savings! Even booking just the day before instead of buying at the station makes a big difference.
There are several websites where you can book online, and then use a 'Fast Ticket' machine to collect your ticket from the station, using the credit or debit card you used to purchase the tickets.
I like the website First Transpennine Express as you can buy tickets for any rail company, and they don't charge a booking fee like most of the other sites.
Peak journey times are around rush hour in the morning and afternoon, so try to avoid travelling then if you can.
If you are looking online and still find your tickets to be too expensive, try breaking up your journey. If your chosen route has a change in it, try searching for a train to the change station, and then a separate ticket to the final destination.
Or mix it up and try looking at a map to see if you can figure out another route! I saved £20 on a single journey just by doing that.
Car Sharing in the UK: Bla Bla Car
Kind of like Airbnb for cars, Bla Bla Car is an excellent example of the Sharing Economy actually helping real people save money on their petrol costs, and allowing you to travel around the UK on a budget. Input your journey requirements and see who is going that way and can pick you up. In my experience prices are a lot cheaper than travelling by train, and if you can get the right route a lot simpler too.
Try and be flexible with dates to give you more chance of finding a suitable journey, and check the reviews of potential drivers to make sure you get a responsible and safe driver. The payment is processed online, then after the journey provide your driver with your booking code to release the payment & allow you to both leave a review for each other.
Hitchhiking in England
Hitchhiking isn't common in England, although it might be possible I have never done it here myself. There are safety issues to consider if you are a solo female traveller and as it is quite unusual to see anyone hitchhiking I don't know how much luck you would have finding a ride so I wouldn't recommend it.
Cheap Accommodation in the UK
Cheap Hotels and Hostels in the UK
Finding budget accommodation in the UK isn't too hard. Hostels can be found in most locations in the UK, check Hostelworld or Booking for your destination to find the best deals.
YHA is a national charity that has hostels all over the UK and helps to create opportunities for young people to experience more of the country, arranging school trips and summer camps. You can stay at one of their many hostels, donate, or even volunteer at one of the hostels if you apply on ttheir website.
If you are travelling in a couple, often simple bed & breakfasts can work out cheaper than two hostel beds, or only slightly more expensive – the extra privacy is often worth the extra cash. They can usually be found on booking.com as well.
Travelodge is a chain of budget hotels that are spread throughout the country, their rates tend to be cheaper during the week and for off-peak times, but prices are worth comparing as they don't advertise on comparison sites like booking.com. Similarly, Premier Inn is a slightly more expensive, slightly higher quality than Travelodge which is worth a look too.
Accommodation in London is more expensive than anywhere else in the country, and usually, prices in the South of England are more expensive than in the rest of the country, so you will have to adjust your budget accordingly.
YOU MAY ALSO LIKE: Why You NEED to Visit the North of England
Couchsurfing in England
Couchsurfing is available in a lot of areas of the UK; where homeowners offer up their sofa for guests willing to exchange cultural knowledge and perhaps cooking a meal or two for a free place to crash for a while. Check reviews carefully before you agree to stay, and exchange a few messages with your potential host to see if you get along.
Airbnb in England
Airbnb offers an alternative to hotel & hostel stays where you stay in someone's home in their spare room, or sometimes have a whole flat to yourself.
Prices vary wildly depending on location and size of the space you book. It can work out cheaper especially if you are travelling in a group, or staying for a long period of time as you usually have access to a kitchen so you can cook 'at home' to save money on buying meals out.
Again, check reviews carefully and be sure to confirm your arrival time and arrangements for picking up keys. When searching on Airbnb, the prices are quoted per night, then they will calculate the full price including service charge and cleaning fees – sometimes what looks to be a cheaper option at first look can end up being more expensive than you expected once the total cost has been calculated. Read my full Airbnb guide for more information.
YOU MAY ALSO LIKE: Free Things to do in York
Cheap Things to do in England
There are plenty of free things to do in England, from exploring destinations on foot to hiking and biking around the countryside or visiting free attractions and museums. If you are planning to spend a lot of time in England and visit some of the most famous historic sites such as Stonehenge and Hadrian's Wall then it might be worth paying for a membership to the National Trust or English Heritage which both work out as excellent value if you make the most out of it.
Have you been travelling around the UK on a budget? Do you have any tips and tricks to share? I'd love to hear your stories!
Like this post? Pin it to read later:
Just to let you know, this post may contain paid or affiliate links, which help to maintain Tales of a Backpacker and give me the chance to keep travelling, and to keep creating awesome content for you!
Tales of a Backpacker is a participant in the Amazon Services LLC Associates Program, an affiliate advertising program designed to provide a means for sites to earn advertising fees by advertising and linking to Amazon.com. I only recommend goods and services I believe are useful and reliable.
Last updated: November 11, 2021