Rio de Janeiro is on many a traveller's bucket list. Spectacular beaches, the iconic statue of Christ, magnificent views from Sugarloaf Mountain, and who could forget the biggest party on Earth, Carnival! If you are lucky enough to visit Rio, you are in for a treat! And while you are in Brazil, why not extend your trip so you can visit other destinations in Brazil? Here are five ideas for places to visit in Brazil before or after your visit to Rio de Janeiro – no matter what you like, there is an option for everyone:
This site contains affiliate links. I may receive a commission for purchases made through these links. As an Amazon Associate I earn from qualifying purchases. As an Airbnb Associate I earn from qualifying bookings.
[Learn more]
Places to visit in Brazil after Rio:
If you like hip and happening cities, go to Sao Paulo
Sao Paulo is South America's largest city; a huge, sprawling metropolis that many people choose to avoid for its crime and pollution. However, get beneath the surface to discover a buzzing nightlife, excellent local and international cuisine and some of the best street art in the world. Bear all this in mind and Sao Paulo is well worth a visit. The metro system is easy to use, clean, and safe, so is a great way to get around. Stay in the bohemian Vila Madalena area for boutique hostels, hotels and plenty of bars and restaurants. Street art in Sao Paulo is some of the best I've seen, and the Beco de Batman is a whole street filled with graffiti that showcases the work of the city's best street artists, and hop on the metro to explore other parts of the city such as old town and its municipal market or Liberdade (home to Sao Paulo's Japanese & Asian communities). If you're on a budget then you could take a free walking tour to explore the city on foot (a little long at around 3.5 hours, so take water with you, & wear comfortable shoes), or head up to the skies with a tour of Edificio Martinelli, Sao Paulo's first skyscraper.
If you like colonial splendour, go to Paraty
Cobbled streets and pretty white buildings with colourful doors & flower filled balconies make Paraty perfect for gorgeous holiday snaps. It is a wonderful example of Portugues colonial architecture, and has been well preserved. It also on the beach! The beach in Paraty itself isn't particularly impressive, but you can hire a boat to visit secluded coves and turquoise waters just a short distance away. If you like to party, then the Caipirinha Boat Tour combines great swimming spots and the picture-perfect photo opportunities with all you can drink caipirinhas and party tunes. It does attract a younger crowd, who tend to take full advantage of the drinks on offer – don't say I didn't warn you! If that sounds like too much, then stroll around the town, and admire the architecture, pop into the churches and enjoy a sweet treat from one of the many dessert carts dotted around town.
If you like the Beach Life, go to Ihla do Mel
Ihla Grande is a popular destination for beach bums after visiting Rio. That does mean though that it can get very busy around holidays and Carnival. To escape the crowds, head further south to Ihla do Mel (Honey Island) near Curitiba. Here you will find a tiny island only reachable by boat, with simple accommodations, miles of beaches and a variety of trails to follow through the jungle. There are no cash machines on the island, so bring plenty with you so you can enjoy the local cuisine, including freshly caught seafood, and moqueca, a kind of fish stew in coconut milk. Explore the forest trails, or take a walk to the lighthouse and the 18th century fort for a touch of history, or simply lounge on the beaches.
If you like jaw-dropping waterfalls, go to Iguaçu Falls
Iguaçu or Iguazú Falls (in Portuguese & Spanish, respectively) are not to be missed. The largest waterfall system in the world, made up of some 275 individual waterfalls and cascades, Iguazu is considered one of the seven natural wonders of the world. I recommend visiting both the Brazilian and Argentinian sides of the falls to get a true picture of their size and power, but bear in mind that if you cross over to Argentina for just 1 day you still need to comply with their immigration and visa requirements. Both sides of the falls have footpaths and walkways to give you unique views of the – some close enough to get drenched from the spray! You also have the chance to see wildlife here in the form of coatis (who can be aggressive, so don't feed them!), monkeys and various species of birds and butterflies. Stay overnight in the town of Foz, and combine your trip with a visit to the huge Itaipu Dam on the border of Brazil and Paraguay, a wonder of modern engineering, at the cost of 700 square km of forest.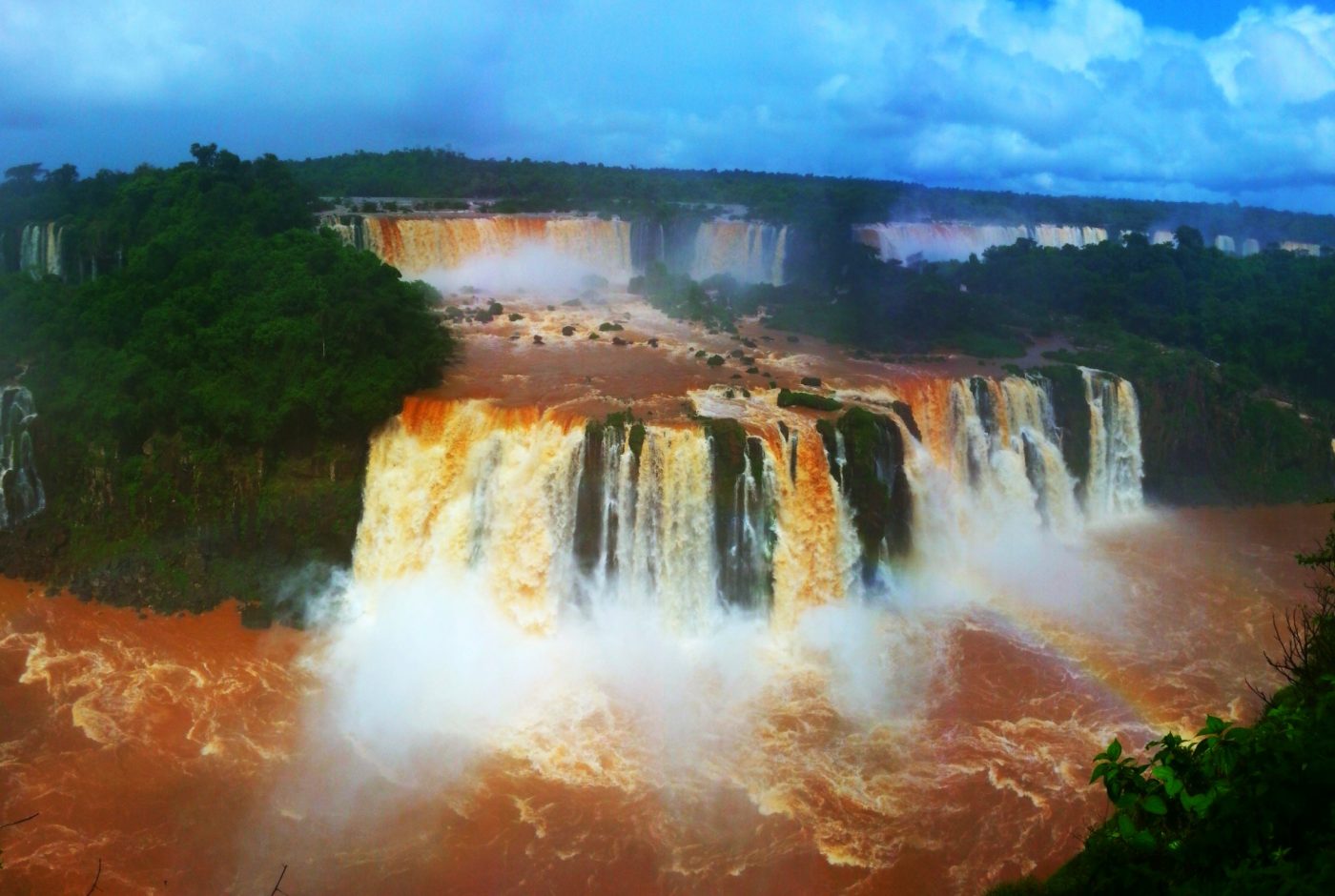 If you like nature, go to el Pantanal or the Amazon
El Pantanal, Brazil's huge natural paradise is the best place for wildlife spotting, from jaguars, anteaters & armadillos to the lovable capybara (a giant rodent rather like an overgrown guinea pig) and is second to none in South America. Tours can be arranged by boat along the system of rivers and flooded plains, or by horseback to get closer to the action. (More about spotting jaguars in the Pantanal).
Alternatively, take a flight north to the Amazon, to embark on a jungle trek from Manaus, then take a slow boat down the river, sleeping in a hammock and chatting with locals. There are thousands of amazing animals in the Amazon that you might spot – monkeys, snakes and birds are common, although difficult to see from the river. Rare pink dolphins are easier to spot though as they play in the river & hunt for fish. Stop off at Santarém and the nearby Alter do Chao to get a taste of the beach on the banks of the Tapajós River, which feeds into the Amazon. Here you can also spend time with the local people, and stay overnight in the jungle where you can explore the river by canoe and spot monkeys, sloths and various jungle creatures.
Where would you like to go in Brazil? I'd love to hear what you think, please leave your comments below.
If you're looking for travel insurance for your trip to Brazil, get a quote now from World Nomads.
You may also like these Brazil posts:
Or click here to read all of our Brazil blog posts.
Like this post? Pin it to read later:
Just to let you know, this post may contain paid or affiliate links, which help to maintain Tales of a Backpacker and give me the chance to keep travelling, and to keep creating awesome content for you!
Tales of a Backpacker is a participant in the Amazon Services LLC Associates Program, an affiliate advertising program designed to provide a means for sites to earn advertising fees by advertising and linking to Amazon.com. I only recommend goods and services I believe are useful and reliable.
Last updated: February 16, 2020