The Northern Irish Coastline is incredibly beautiful. There aren't quite enough superlatives to describe the variety and drama of the cliffs, beaches, castle ruins and UNESCO World Heritage sites. The whole of the Causeway Coastal Route is fascinating, and if you have a few days to spend in Northern Ireland then you should take the time to explore. I spent two nights and three days in and around the Giant's Causeway, and one of the days I decided to visit Portrush, and to walk along White Rocks Beach from Portrush to Dunluce Castle. There are plenty of things to do in Portrush, and in the nearby area, so it could be a good base for you to visit the Giant's Causeway and enjoy the Causeway Coast.
This site contains affiliate links. I may receive a commission for purchases made through these links. As an Amazon Associate I earn from qualifying purchases. As an Airbnb Associate I earn from qualifying bookings.
[Learn more]
Portrush, Country Antrim Northern Ireland
Portrush is, during the summer months, a bustling seaside town. When I visited in September, the amusement park had closed, and the arcades and streets were quiet.
It was a blustery day, with plenty of cloud and a constant threat of rain as dark clouds loomed overhead. I could still see how lovely the surrounding beaches were though, and the clear blue water was still obvious despite the gloomy skies.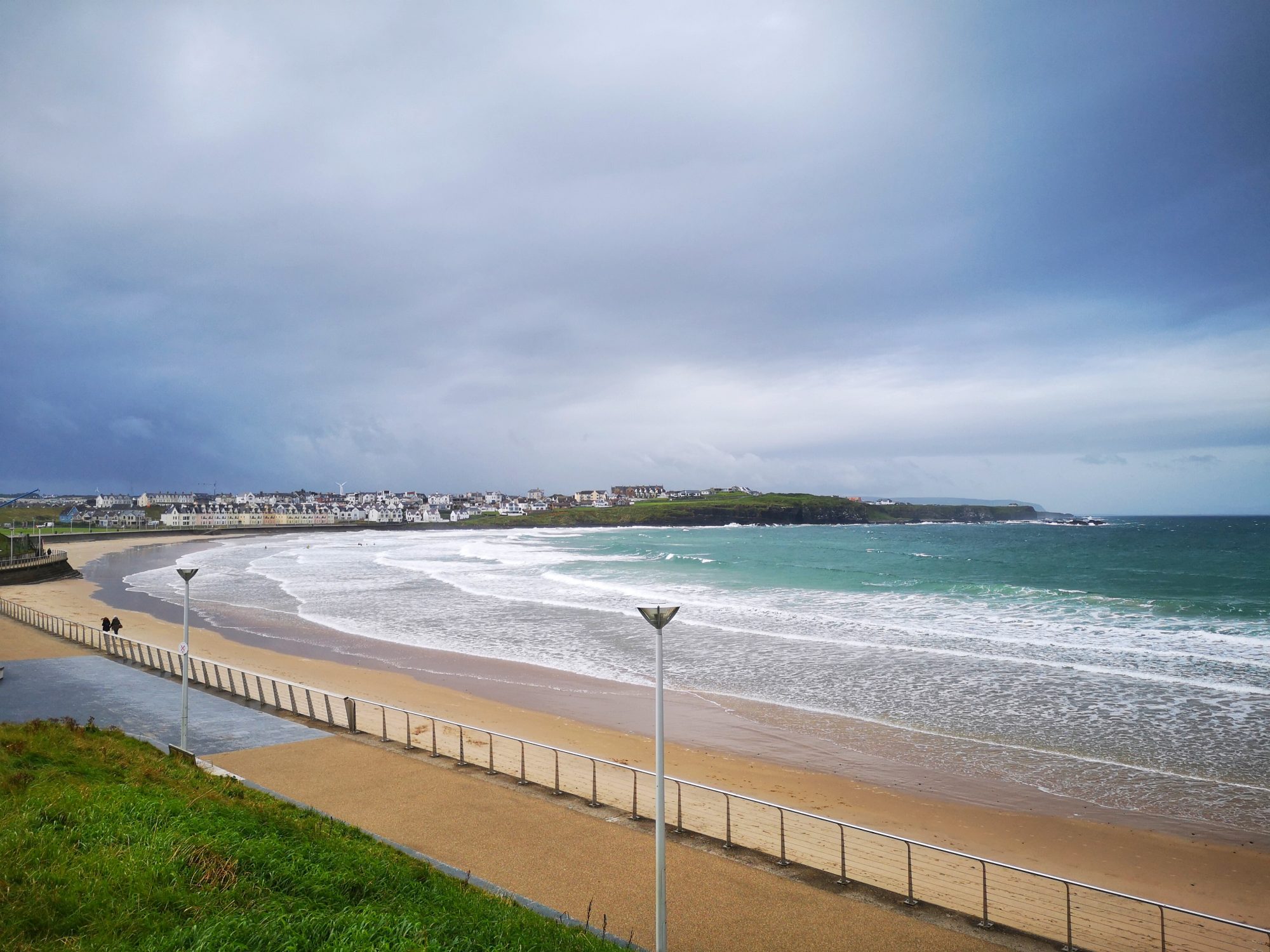 Things to do in Portrush
Enjoy the Beaches in Portrush
The beautiful beaches are a must-do in Portrush, and they are hard to avoid! The beaches on both sides of Portrush are lovely and clean, and in warm weather the beaches are popular with locals and holidaymakers enjoying the sunshine and waves.
West Strand Beach is to the west of town, and is a smaller, curved beach, whereas East Strand Beach is a longer, wider beach which follows the coast for about 2 miles, ending with White Rocks Beach at the far end.
Go Surfing in Portrush
Thanks to the beaches, Portrush is a great place to surf, bodyboard and paddle board. There are several surf schools in Portrush, offering private, group, and family surf lessons as well as paddle board hire – check out Alive Surf School, Portrush Surf School and Troggs Surf School, or take a look at all the reviews for Portrush Surf Schools on TripAdvisor.
Things to do in Portrush: Go Fishing
Sea fishing is a popular activity in Portrush, of course, the coastline has some of the best fishing waters in Northern Ireland. Causeway Seafishing Company offer fishing tours from Portrush on their boats the 'Causeway Lass' and 'Causeway Maid' where you can catch your own dinner, spot wildlife and enjoy the coastline from the water. Check reviews on TripAdvisor.
Take a Sea Tour
Portrush Sea Tours offer boat tours from Portrush along the coast to the Giant's Causeway and Carrick-a-Rede rope bridge, giving you a completely different perspective of the coastline. Take a look at their website for more details, or check the reviews on Tripadvisor.
Visit the Portrush Coastal Zone
Portrush Coastal Zone is a free coastal and marine centre run by the Department of the Environment. There are discovery pools and tanks along with displays and activities so you can learn more about the coastal wildlife and heritage in Northern Ireland.
Out the back of the centre is a viewing platform which looks out to sea where you may be able to spot dolphins, seals and harbour porpoises if you're lucky! The centre is only open during the summer.
Things to do in Portrush: Barry's Amusements
If you are in Portrush with kids, during the summer you won't be able to avoid Barry's Amusements, a theme park with fairground rides, games and slot machines to keep the children entertained. Take a look at their website for opening times, which vary depending on the time of year.
Play Golf at Portrush
Portrush is renowned for its world class golf course, where the 148th Open Championship was held in 2019. The golf course follows the coastline, just above West Strand Beach. You can book tee-times on the Royal Portrush Golf Club website, try to book as far in advance as you can to reserve a place.
Special Events at Portrush
As well as the golf Open, there are annual events in Portrush which draw crowds from all around the country and beyond. At the beginning of September there is an annual air show which sees special flight performances and various aeroplanes on the long West Strand Beach. You can find more information on their website here.
Motorbikes take over for a week in May, when the North West 200 motorbike race comes to town. Top motorcyclists from all over the world compete on the course which forms a triangle between Portstewart, Coleraine and Portrush.
During the May Bank Holiday, the RNLI Portrush Raft Race Weekend, a charity fundraising event for the Royal National Lifeboat Institution, has competitors building their own rafts and attempting to sail around Portrush Harbour.
Things to Do Near Portrush
White Rocks Beach & Coastal Park
I walked along the length of East Strand Beach to White Rocks Beach which was lovely, and then continued to Dunluce Castle. White Rocks Beach and the Coastal Park are at the far end of East Strand beach, so you can either walk along the beach to get there.
Alternatively, you can access White Rocks Beach directly from the road where there are toilet and parking facilities available all year round, and a surf school and life guards during the summer.
Here, limestone cliffs replace the sandy beaches and you can explore the caverns and archways formed by the waves in the cliffs. Keep an eye on the tide to avoid getting your feet wet!
A new section of cliff path was recently opened as a new part of the Causeway Coast Way, so after walking to White Rocks Beach, I followed the path up to the cliff top and walked further along towards Dunluce Castle. The path is well kept, and it is not a difficult walk.
Information boards on the path explain how the cliffs and cave systems formed, as well pointing out the Skerries, the small group of Islands off the coast.
Dunluce Castle
It is possible to walk along the coastal path from Portrush to Dunluce Castle, although the last section will be along the pavement on the side of the road. I walked this way, which took about an hour and a half.
Dunluce Castle was a medieval castle, built by the MacQuillan family around 1500. It now lies in ruins but was brought back to life in Game of Thrones as the House of Greyjoy, with the help of CGI of course.
The location is stunning as the castle is perched on the cliffs above the sea, and you can get a pretty good view from the roadside path. If you would like to go inside to explore the ruins there is a £5.50 entrance fee for adults, £3.50 for children.
YOU MAY ALSO LIKE: Walking the Causeway Coastal Route to the Giant's Causeway
Bushmills Distillery
Bushmills is a popular stop off for tour groups who include in their Giant's Causeway day tour from Belfast. The whiskey distillery offers a tour and whiskey tastings, as well as a café restaurant on site.
The Giant's Causeway & Causeway Coastal Route
I can't talk about the Northern Irish Coast without mentioning the Giant's Causeway. Portrush is about 25 minutes' drive from the Giant's Causeway, so if you are staying in Portrush you could drive there or take the bus.
I highly recommend visiting the Giant's Causeway either early in the morning, or around sunset once the tour groups have left. Another option would be to take a tour with Away A Wee Walk to walk along more of the Causeway Coastal path from Dunseverick back to the Giant's Causeway.
I did this walk as well and absolutely loved it; the landscape is very different yet equally dramatic on that side of the coast. Further along the coast you'll also find the Carrick-A-Rede rope bridge which hangs dramatically over the waves below.
Restaurants in Portrush
There are several cafés and restaurants in Portrush; I had lunch at the lovely Babushka Kitchen Café perched between Portrush Harbour and West Strand Beach. They serve brunch, light meals and a selection of delicious cakes as well as hot and cold drinks. From the window or terrace area you get a lovely view of the beach.
For dessert I wandered around to Morelli's, famous for their ice-cream in Northern Ireland.
Ocho Tapas Bistro is a more fancy choice to eat, whereas Kiwi's Brew Bar and Harbour Bar serve good pub food. The Portrush Deli Company gets excellent reviews, but it is only open by reservation only, so be sure to book in advance if you'd like to try it.
Where to Stay in Portrush
Hotels in Portrush
Hotelscombined has a variety of hotels, holiday homes and bed and breakfasts in Portrush to choose from. Aaranmore Lodge Portrush gets excellent ratings and is a good choice for couples.
Portrush Holiday Hostel is a great option for budget travellers or families, and there are plenty of options to choose from. Booking well in advance is advised during the summer holidays and peak times like weekends and when there are special events going on in town.
Or check the options on Airbnb. If you have never used Airbnb before, use this link to sign up & get $30 credit to use on your first trip!
Hostels in Portrush
Portrush Holiday Hostel is the only hostel I could find in Portrush, and it gets excellent reviews. They have a combination of dorm rooms and private double and family rooms and the rates include breakfast. If they are fully booked there are other hostels in nearby Bushmills, and right next to the Giant's Causeway (where I stayed at Finn McCool's).
How to Get Around the Coastal Route
There is no doubt the easiest way to get around is to hire a car. However, there are buses that run along the route which you can catch, but make sure you check the timetable to make sure you don't get stranded. I took the bus to Portrush from outside my hostel at the Giant's Causeway, walked back to Dunluce Castle, and hopped on a bus back that afternoon.
How to Get to Portrush from Belfast
If you decide not to hire a car, there are regular train services from Belfast to Portrush, leaving from Great Victoria Street, passing through City Hospital and Botanic through to Coleraine and Portrush train station. You can also take a train to Coleraine where you can hop on a bus up to Portrush, Bushmills and along the coast to the Giant's Causeway and beyond. Check the Translink website for train and bus times.
Have you visited Portrush? Are there any cool things to do in Portrush that I've missed? I'd love to hear your thoughts, please leave your comments below.
If you're looking for travel insurance for your trip to Ireland, get a quote now from World Nomads.
Like this post? Pin it to read later:
Just to let you know, this post may contain paid or affiliate links, which help to maintain Tales of a Backpacker and give me the chance to keep travelling, and to keep creating awesome content for you!
Tales of a Backpacker is a participant in the Amazon Services LLC Associates Program, an affiliate advertising program designed to provide a means for sites to earn advertising fees by advertising and linking to Amazon.com. I only recommend goods and services I believe are useful and reliable.
Last updated: May 1, 2020