Tayrona National Park in Colombia is an incredible place. In Spanish, it is known as Parque Tayrona or Parque Nacional Tayrona, and it was one of my favourite places to visit when I was backpacking in Colombia. Although it is possible to visit Tayrona National Park on a day trip, the best way to experience the park is to spend at least one night there. However, choosing Tayrona National Park accommodation which works best for you isn't the easiest, so I've brought together all the options for Tayrona National Park hotels and eco-habs as well as camping and hammocks with updated prices for 2019, so you can choose where to stay in Tayrona National Park.
This site contains affiliate links. I may receive a commission for purchases made through these links. As an Amazon Associate I earn from qualifying purchases. As an Airbnb Associate I earn from qualifying bookings.
[Learn more]
REMEMBER: Tayrona National Park is closed every year from January 28th to February 28th to allow the land to recover without the interference of tourists.
Where to Stay BEFORE Going to Parque Tayrona
Actually getting to the Tayrona National Park beaches takes quite a while once you enter the park, so I'd advise staying somewhere close by the night before so you can get to the park as early as possible and make the most of your time there.
You will need to enter the park before 2pm to allow enough time to safely get to the camps before dark, and after that the park rangers might not let you enter the park if they think it will get dark before you get to your accommodation.
Santa Marta
Most visitors to Tayrona National Park use Santa Marta as a base, as you can also easily visit the Lost City and Minca from here too. Santa Marta is about an hour's drive from the main entrance to Parque Taryona at El Zaíno, and there are regular shuttles and buses from Santa Marta to Tayrona.
Santa Marta has good transport links, and there are buses to Santa Marta from Cartagena, Barranquilla and Bucaramanga, among others.
The Best Santa Marta Hostel for Tayrona National Park: Dreamer Hostel
I stayed in the Dreamer Hostel in Santa Marta, which was awesome. There are private rooms or dorms available, a swimming pool and cheap restaurant with decent food. I also recommend staying at this hostel before going on the Lost City Trek to Ciudad Perdida, as they will happily store your big backpack while you're away.
Dreamer Hostel runs one or two daily shuttles (depending on demand) that go directly from the hostel to the entrance of Tayrona National park. Or you can take the public bus from Santa Marta to Tayrona National Park, which runs frequently between Santa Marta and Palomino, just ask the driver to stop at the El Zaíno entrance of the park. The bus route passes close by the hostel so it is easy enough to take.
Taganga
Taganga is a much smaller town than Santa Marta and is a popular spot for diving. Many backpackers choose to stay here for a few days before heading to Tayrona. It is possible to take a boat from Taganga directly to the beach at Cabo San Juan in Tayrona National Park for 50,000 COP.
However, the sea can be very rough (and dangerous!) from November to March, and after reading other accounts of the boat journey I wouldn't recommend it. There are buses you can take to the park instead, ask your hostel for details of the stop to take the bus to Parque Tayrona from Taganga.
The Best Taganga Hostel for Tayrona National Park: Hostal Palohe
Hostal Palohe gets great reviews for being a clean and friendly place to stay. They have private and dorm rooms, and although breakfast isn't included, for an extra 10,000 COP it seems worth it. The hostel also has a pool, wifi, air conditioning and a good relationship with a local dive school if you want to learn to dive while you're here.
Palomino
Palomino is about 40 minutes east of Parque Tayrona, and is a good place to visit either before or after you go to Tayrona. I chose to visit Palomino after Tayrona, to spend a couple of days at the beach with the comforts of a hostel bed and a swimming pool! Palomino is a good stop-off point before going further east to La Guajira if that is also on your Colombia itinerary.
Popular activities in Palomino including tubing down the river and horseback riding, as well as sunbathing on the beach, although it isn't safe to swim due to strong currents. I stayed at the Dreamer Hostel Palomino which I enjoyed, but it isn't quite as good as it's sister hostel in Santa Marta. After a mix-up with my booking, I switched to Primaluna Beach Hostel across the road which was better.
Cartagena
Cartagena is about 5 hours' drive from Tayrona National Park, so if you are staying in Cartagena, I would advise spending a night in Santa Marta or somewhere closer to the park entrance so you can arrive at the park in the morning.
If you travel directly from Cartagena to Tayrona, you may not have time to walk to the camps before dark – the rangers usually stop people going in after about 2pm as it isn't safe to walk around the paths after dark.
There are several buses or shuttle buses from Cartagena to Santa Marta so you should have no problem getting to Santa Marta or your accommodation before heading to Tayrona the next day.
Accommodation Around Tayrona National Park
When searching for a Tayrona National Park hostel, it can be confusing as there are several hostels and hotels close to Tayrona but not actually inside the national park. They can be a good choice to spend the night before going inside Parque Tayrona, but check the location carefully before you book.
Viajero Tayrona Hostel and Ecohabs, for example, gets great reviews on Hostelworld and is about 20 minutes away from the main entrance to the park. It is right on the beach, they have their own restaurant on site and offer surf lessons, tours and massages too. Downsides are it is not very close to any town, and there is no kitchen, so other food options are limited.
Tayrona National Park Accommodation
There are several options for Tayrona National Park accommodation actually inside the national park, where you can choose from hammocks, camping, hotels and luxury ecohabs. There are no hostels inside Tayrona National Park, so if you are backpacking Colombia on a budget, then you will be camping, or sleeping in a hammock.
Most of the accommodation in Tayrona National Park is accessible from the main entrance at El Zaino, whereas to get to Playa Brava it is about 3 or 4 hours hike from the Calabazo entrance. I have tried to find a decent Tayrona National Park map with all the locations and trails marked on, but it doesn't exist. Even Google Maps is useless without the trails marked.
There is a basic map at the entrance of Tayrona National Park, and this one I made will give you a vague idea of where the beaches and campsites are:
Top Tips for Staying in Tayrona National Park
READ MORE: Your Ultimate Guide to Tayrona National Park
The national park footpaths close at 5pm when it gets dark so the last entrance to the park is usually 2 or 3pm. Make sure you arrive in the morning as early as possible so you have time to hike to your accommodation.
Leave your heavy luggage at your accommodation in Santa Marta or wherever you stayed the night before. Hiking two or three hours with all your stuff is not something you want to do!
If you don't want to hike, you can hire a horse to carry you or your equipment. They cost $40,000 to Cabo San Juan, $30,000 to La Piscina or $20,000 to Arrecifes.
Bring your passport with you as you will need it to register at the entrance. It is also recommended to have your yellow fever certificate with you as well. Leave your other valuables in a safe place with the rest of your luggage. There are some lockers available, but you need to bring your own lock.
Bring plenty of water and snacks for the hike and for your stay. Food options are limited, as is fresh water so a water bottle with a filter is a good idea too.
Polystyrene and plastic bags are restricted in the park – you are going to a national park so be as eco-friendly as you can. A water-proof bag to keep items dry is a good idea in rainy season.
Tayrona National Park Ecohabs
The ecohabs in Tayrona are the most luxurious form of Tayrona National Park accommodation, and they carry the price tag to match – so it is not for budget travellers unless you really fancy a splurge.
These beautiful thatched roof bungalows resemble the traditional homes of the indigenous people in this region and are equipped with comfortable beds, hammocks to relax in and stunning views of the ocean.
The Ecohabs are close to Cañaveral beach, you can take the park shuttle here from the El Zaino entrance or arrange a private transfer with the hotel so you won't need to hike with your bags from the entrance.
The ecohabs have a gourmet restaurant on site, and they also offer spa treatments and guided tours within the park, for an extra fee. There are bungalows for 2 or 4 people, and prices start from around $368 USD per bungalow per night. Read more…
Tayrona National Park Hotels
There are two hotels inside Taryona National Park if you want to enjoy the nature of the park on a reasonable budget but can't face camping.
Hotel Jasayma Parque Tayrona is close to the entrance of the park, about 15 minutes' walk from the Zaino entrance, and about 30 minutes' walk (or a short shuttle bus ride) to the start of the trail to hike into the rest of the park.
They have private parking if you come by car, a restaurant on site, and wifi access, so you can have more comfort here than you might expect – but you still have quite a walk to get to the beaches. Prices start from around 180,000 COP ($62 USD) per room. Read more…
Camping Castilletes Parque Tayrona is further inside the park, close to Cañaveral beach (which is dangerous for swimming), but still a good hike from the swimmable beaches. The shuttle buses will drop you off close to here and you can walk to the hotel easily.
You can camp at Camping Castilletes Parque, including with your own RV or campervan, or you can book private rooms start from around 100,000 COP ($34 USD) including breakfast. Family and Quadruple rooms are also available, and according to the reviews on Tripadvisor, the facilities are basic but generally clean. There is a restaurant, but no wifi. Read more…
Tayrona National Park Camping
There are several campsites in Parque Tayrona where you can pitch your own tent or rent one. Campsites also have hammocks for rent too.
You can camp at Arrecifes but the beaches here aren't fit for swimming due to dangerous currents. There is a sign warning of the dangers and confirming that more than 100 tourists have drowned there – so don't become another statistic.
There are several campsites around Arrecifes, including Finca El Paraíso which has decent showers, toilets and a restaurant, but it is quite pricey and better options come later, so I'd advise you to continue your hike.
Another 20 minutes' hike later you will reach La Piscina beach. Translated as the Swimming Pool, as the name suggests you can swim here, grab some snacks and drinks, and even take a snorkelling tour. There are no campsites here though.
Cabo San Juan del Guia Campsite
Keep going and, eventually, you will reach Cabo San Juan, which has the prettiest beaches, and is the most popular campsite. Here there are tents and hammocks to rent, or you can bring your own tent for camping.
There are a couple of cabañas available here as well for $200,000 COP per night which share the same facilities as the rest of the camp.
There is a restaurant, bathroom facilities, and there are some lockers although I don't recommend bringing anything of value with you (although you will need your passport to enter the park). The bathroom facilities aren't the best, so don't come expecting luxury!
From the camp you can also walk to Pueblito (an indigenous village) from here, or check out the nudist beach a bit further along the coast.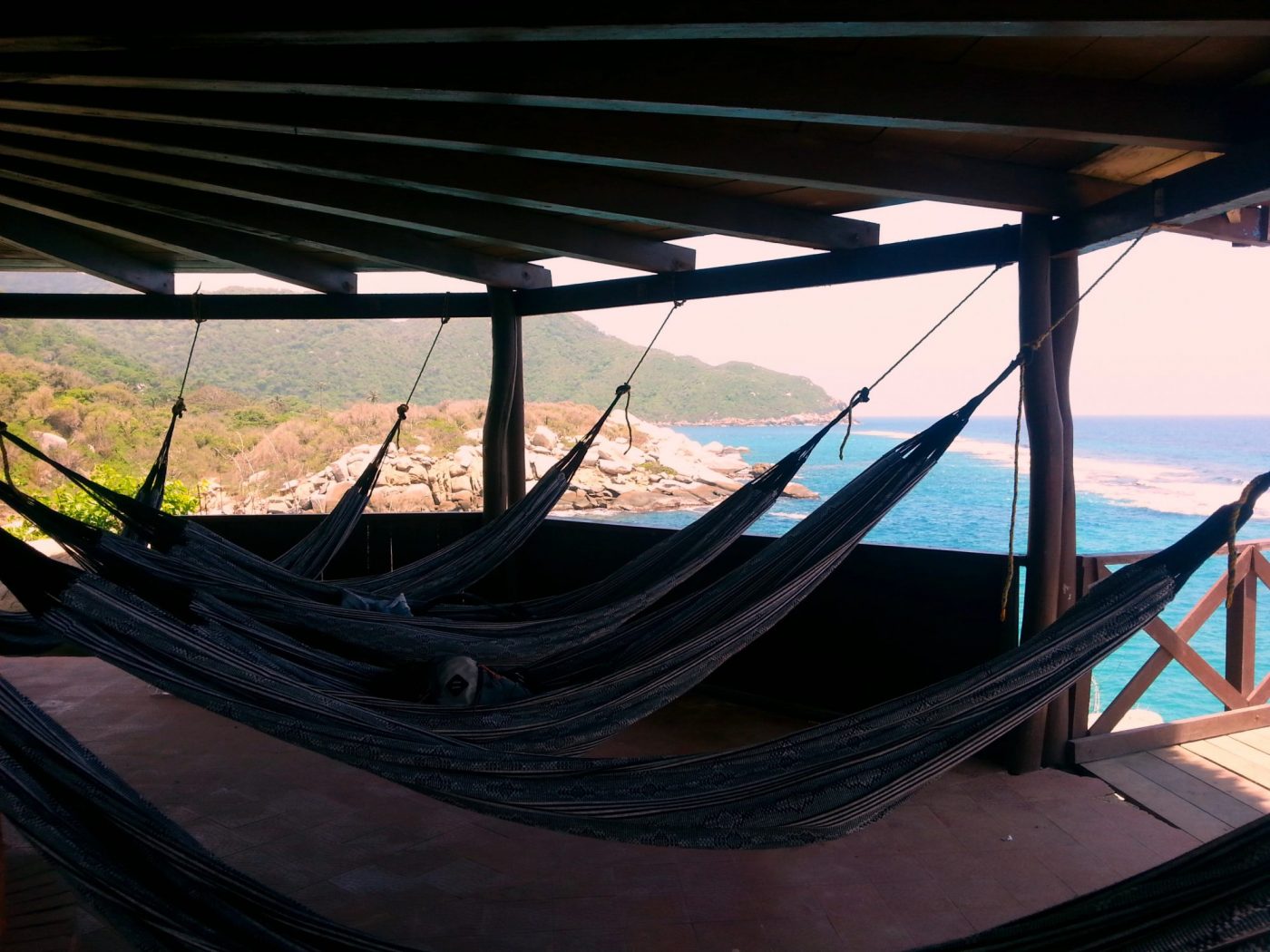 Sleeping in hammocks at Tayrona National Park
Tayrona National Park Camping: Hammocks vs Tents
When we arrived at Cabo San Juan campsite, we were told we could only check in at 1.30pm, so be prepared to queue in busy times. The rules seem to change regularly though, so I'd still advise arriving as early as you can, some people have reported being able to reserve a hammock or a tent much earlier during the day so just get there and see what the current rules are!
I'd also heard recently that there is a booth near the entrance to the park where you can book a hammock as soon as you arrive – I'm not sure of the details but keep an eye open for that when you go!
Tayrona National Park Hammocks
Most of the hammocks at the Cabo San Juan campsite are in the 'cow shed' shelter in the middle of camp. These cost $40,000 a night, but don't have any mosquito nets so make sure you bring your own, or plenty of repellent. A sleeping bag liner is also handy as a cover to sleep in.
The best hammocks are up in the hut overlooking the beach, but these get booked up first, and are often full of people staying for 2 nights. There are only 16 hammocks up there and they cost $50,000 a night (no mosquito nets either).
If you want to stay up here but they're already booked when you arrive, your best bet is to spend your first night in the 'cow shed' then ask to transfer up to the beach hut the next night.
Tayrona National Park Camping in Tents
At the campsite at Cabo San Juan you can hire a tent for $40,000 COP for person per night. The tents get very hot very quickly as soon as the sun comes up, and have dubious mattresses inside.
The tents may offer more protection from mosquitoes unless you get one inside! You can also choose to bring your own tent to pitch for $20,000 per night, but you'll need to carry all your gear here or rent a horse to bring it for you.
Bear in mind that in rainy season, your tent might well end up in a puddle!
Which Is Better? Hammocks or Tents?
I'd say the hammocks were the best option but there are no mosquito nets provided, so bring your own if you don't want to feed the pesky mozzies. In rainy season I'd much rather stay hanging above the puddles!
We stayed for 2 nights, the first night in the cow shed, then in the morning we asked to upgrade to the beach hut. Waking up to the sound of the waves and a gorgeous sunrise was definitely worth it!
Airbnb in Tayrona National Park
Bear in mind that when searching on Airbnb, that most of the places which come up are not actually inside the National Park. The location map is misleading so make sure you read the descriptions properly before booking.
That said, there are a few homes which are in Tayrona National Park which offer more privacy and a little more comfort than the campsites so you can enjoy Parque Tayrona in relative peace and quiet.
Playa Brava Teyumakke is at Playa Brava, and is only accessible from the Calabazo entrance, which is a 3-hour hike away. You can hire a horse to carry your backpack, or yourself! You can enjoy the beach here, and there is a waterfall nearby.
You can also hike to Pueblito and the other beaches if you want to explore the park. This beach is much quieter than the others like Cabo San Juan del Guia and reviews on Airbnb are excellent. The private room costs around $230,000 COP which is about $73 USD per night, although prices may vary depending on the time of year.
If you have never used Airbnb before, use this link to sign up & get up to $40 credit to use on your first trip! Read more about the Airbnb first time discount code and my full Airbnb guide or click below for your Airbnb coupon.
Towards the western side of the park, closest to Taganga, there are more choices for Airbnbs in Tayrona National Park like these options, but I don't know much about that side of the park so I'm not sure what there is to see around there as it is too far to reach the rest of the park activities above.
There are of course beaches and nature to enjoy! These options are quite a lot more expensive than the rest of the accommodation in Parque Tayrona, so before you book make sure you know exactly where you are going and how to get there!
Where would you stay in Tayrona National Park? Would you splurge on the Ecohabs or go for a night in the Tayrona National Park hammocks? I'd love to hear your thoughts, please leave your comments below.
If you're looking for travel insurance for your trip to Colombia, get a quote now from World Nomads.
Like this post? Pin it to read later:
Just to let you know, this post may contain paid or affiliate links, which help to maintain Tales of a Backpacker and give me the chance to keep travelling, and to keep creating awesome content for you!
Tales of a Backpacker is a participant in the Amazon Services LLC Associates Program, an affiliate advertising program designed to provide a means for sites to earn advertising fees by advertising and linking to Amazon.com. I only recommend goods and services I believe are useful and reliable.
Last updated: May 1, 2020