Vienna is a beautiful city, but with so many things to see and do it can be hard to decide on the best Vienna itinerary to suit your needs. I have been to Vienna four times now, so have picked out my favourite things to do in Vienna for this Vienna 2 day itinerary so you can have the perfect 2 days in Vienna. Of course, like any itinerary, you can chop and change it to fit your plans, and I've also included some additional suggestions if you have more time in Vienna.
This site contains affiliate links. If you click through the links on this page and make a purchase, I may earn a small commission. As an Amazon Associate I earn from qualifying purchases. Thank you for supporting Tales of a Backpacker.[Learn more]
How Many Days in Vienna Are Enough?
That's like asking how long a piece of string is! Some people choose to visit Vienna in one day, but for me, that is nowhere near enough time to get a real feel for the city.
I would say that 2 days in Vienna is the absolute minimum and spending a weekend in Vienna will give you a great introduction to the city and allow you to see the highlights.
If you have more time to spend, then 3 days in Vienna are even better, and with 4 days or more, you can really explore the city and even fit in a day trip or two to explore more of Austria or visit Bratislava in Slovakia which is an easy train or boat ride away.
How to Enjoy Vienna
At first, I was worried Vienna would be boring. Classical music and classical architecture struck me as a little dull, but don't worry if that's not your thing – Vienna has much more to offer. Foodies won't be disappointed, nor will street art fans, so I found the best way to enjoy Vienna was strolling around, eating and hunting out some of the more unusual things to do in Vienna.
I've included the top attractions in Vienna here, but if you're into street art then I'm also working on a post about where to find that in Vienna (so consider squeezing a street art tour into your itinerary).
Alternatively, if you are interested in food then a food tour would be a good way to spend your time, in particular, this one which went to different parts of the city I wouldn't have considered before.
Essentially, you choose how you want to spend your time. I hope I've given enough ideas for you here to help you create your perfect 2 day Vienna itinerary, so you can pick out the best things to do in Vienna for you.

What to Do in Vienna in 2 Days
Free Walking Tour
I took a free walking tour from my hostel Wombat's Vienna Naschmarkt to see many of these places on foot. Our guide told us a lot of information about the history of Vienna, the best food to try in Vienna, and everything about the landmarks we passed.
This was a great introduction to the city, and worth a couple of hours to get your bearings. Tours leave from the hostel in the morning, check with reception for the timings and meeting point. If you aren't staying at Wombat's then check out free walking tours of the city centre with Welcome Tour, Sandeman's or Strawberry Tours.
You could also join one of these tour options with GetYourGuide or explore the city yourself if you don't mind missing out on the information that tour guides would provide. The suggested Vienna 2 day itinerary below doesn't include the walking tour, but it is easy enough to adjust the rest of the itinerary once you've been on the tour and can decide what else you'd like to spend time doing.
Naschmarkt Market
The Naschmarkt is an essential stop off, especially on Saturdays when the market expands to include a flea market and loads more food stalls so you can browse to your heart's content. Here you can find local and middle-eastern food in the restaurants or pick up some snacks to eat during the day while you are exploring Vienna.
Karlskirche
This lovely church is set in a park and very pleasant to sit by on a sunny day. On some evenings there are live musical performances inside, and although I didn't catch a performance there I did see one at the nearby Annakirche which was fabulous.
Check out some of the live musical performances in beautiful venues around Vienna:
The Opera House
The beautiful Opera building is worth seeing from the outside and you can join a tour to see the inside if you'd like a closer look at the theatre and how it works backstage. Guided tours run throughout the year, but aren't offered every day so check their website for times and availability. Tours cost €9 for adults and €4 for children and students.
You can get tickets for live performances at the Opera by booking in advance or queueing up outside for cheaper standing room tickets. However, you need to be there to queue at around 5 pm to get tickets for the 7.30pm show. The Opera performers take the summer off, so check the schedule for dates if you would like to see a show.
Heroes' Square (Heldenplatz), Maria-Theresien Platz & the Museums Quarter
I've included these together, as depending on how much time you have in Vienna you may want to visit some or all of the museums here, or simply stroll through. The Natural History Museum is an incredible building and filled with excellent exhibits including dinosaur skeletons and meteorite fragments.
It's €12 for adults, but free for kids under 19 and with discounts for senior citizens and students, it's closed on Tuesdays. The Leopold Museum has a fine selection of Austrian art, but if you're in Vienna with kids they'd probably prefer the ZOOM Kindermuseum which has interactive and experimentation areas designed especially for inquisitive young minds.
Volksgarten
This pretty garden was filled with roses when we visited Vienna in June and is worth strolling through if nothing else. In the mornings you might even catch a glimpse of the Lippizaner horses from the riding school taking a break here, I didn't see them but apparently, they're often there on a Monday morning.
The Town Hall
The Vienna's Rathaus or Town Hall is a beautiful building, and often the site of various events from Christmas markets to Pride celebrations and an outdoor cinema screen.
The Hofburg
The Hofburg Palace is a huge complex, and if you go inside any of the museums this could take a whole day alone, so if you're only in Vienna for 2 days you can just admire the beautiful building from the outside and saying hello to the many horses and carriages that wait outside. If you're feeling flash you could take a carriage, but I prefer to take pictures of the horses instead of ride in the carriage!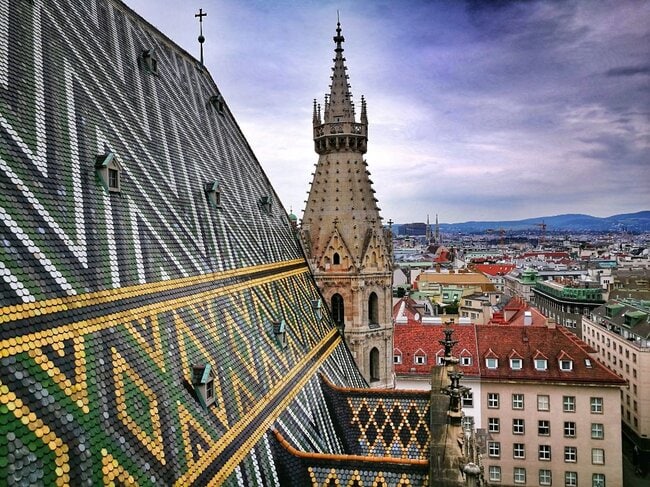 The National Library
This stunning Baroque building is the largest library in Austria, housing millions of books. The ceiling frescoes and statues were beautiful and although it is €8 to get in, it is totally worth it.
St Stephen's Cathedral
This magnificent cathedral dominates the centre of Vienna and is free to go inside. You can also climb up the tower to see the beautiful tiled roof up close and for gorgeous views of Vienna. The tower is just €6 and worth the price.
The Danube Canal
All along the Danube Canal close to Schwedenplatz underground station, there are new bars and restaurants popping up alongside street art and even a floating gym. The canalside is booming and is THE place to go in the evenings over the summer. It is also a pleasant walk during the day and if you're into street art it is a great place to check out some of the best street art in Vienna.
The Spanish Riding School
I had dreamed about seeing the Lipizzaner horses perform since I was a little girl. These magnificent horses are usually white, although the school always keeps at least one brown Lipizzaner horse as a tradition.
The horses are trained with their riders to perform incredible jumps to music. You can take a guided tour of the stables, watch their morning training, or catch a performance which is a must for horsey fans like me!
Schönbrunn Palace
Schönbrunn is a beautiful place to explore and again you could easily spend a whole day here if you visit the interior, the gardens and the zoo. I didn't actually go inside but enjoyed walking around the gardens and admiring the fountains.
You can also get a great view of the gardens from up the hill at the far end of the gardens. If you're a fan of apple strudel I'd also highly recommend the Strudelshow in the Palace Bakery, where you get to see a live demonstration of how to make apple strudel, which munching a tasty sample.
Other Things to Include in your 2 Day Vienna Itinerary
Depending on how long you spend visiting museums and/or the Spanish Riding School, you may also have time for these, or you could add them to your list for a return visit.
YOU MAY ALSO LIKE: What to Eat in Vienna
Prater Theme Park
Prater is a huge theme park which has a range of rides and amusements including a giant Ferris wheel which was built in 1897. The park and Ferris Wheel have featured in several films, including Orson Welles' 'The Third Man' so is a must for film buffs.
There are also plenty of scary rides if you are that way inclined, and a fabulous beer garden restaurant Schweizerhaus which serves an incredible pork knuckle. The park is open 24 hours, so could be a good thing to do in the evening.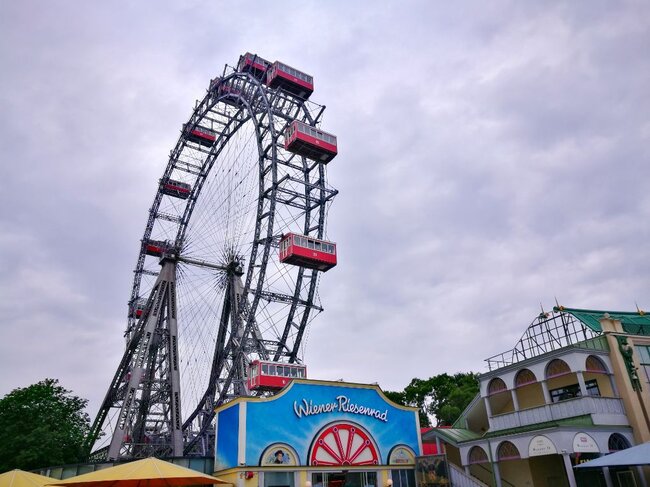 Belvedere Palace
This spectacular palace, actually two Baroque palaces, is a UNESCO World Heritage site and has beautiful gardens and a wonderful art museum. I came here on my first visit to Vienna to see the Gustav Klimt pieces, in particular, 'The Kiss'.
It is a bit further out of the city centre so you may not have time if you only have 2 days in Vienna, but if you are a Klimt fan then I highly recommend making time for it!
Suggested Vienna 2 Day Itinerary
Vienna Itinerary Day 1
As I was staying at Wombat's Naschmarkt I'm beginning my Vienna itinerary here. Stroll through the Naschmarkt market and pick up some food to take away for breakfast, or sit in at one of the cafes. Head to Karlskirche then cross the road to the Opera House, taking a tour if you like or come back later for a show.
Walk down the Opernring towards the Museum Quarter and Heldenplatz. If you're planning on visiting any of the museums that will easily take you to lunchtime, which I suggest having at Café Central.
After lunch, head to the Town Hall, then through the Volksgarten to the Hofburg where you can visit the museums and head to the Austrian National Library. Walk through town to St Stephen's Cathedral and make sure you go up the tower for stunning views of the city. Visiting time for the cathedral ends at 4.30pm so plan your time accordingly – if you run out of time then you can do it on your second day.
In the late afternoon, head down to the Danube Canal to check out the street art and have a drink or two in a bar along the water. In the evening, see if you can catch a classical concert in one of the churches, or a performance at the Opera.
Vienna Itinerary Day 2
Start the day watching the morning exercise at the Spanish Riding School. You can spend up to a couple of hours there, then go for a mid-morning Sachertorte at Cafe Demel. Walk up to St Stephen's Cathedral if you didn't have time yesterday, and have lunch in the city, perhaps at Figlmuller.
After that, hop on the underground to Schonbrunn Palace. Here you can explore the gardens, visit the zoo or go inside the palace, but don't miss the Strudelshow! You can easily spend all afternoon here exploring, before heading back into the city for the evening where you could see a performance at the Spanish Riding School, or perhaps head to Prater for the evening.
Getting Around Vienna in 2 Days
Vienna is an easy city to navigate and cheap to get around, and you'll probably be able to walk for most of this itinerary, especially on Day 1. However, if you prefer to visit other places in Vienna or are staying in a different part of the city then the public transport in Vienna is excellent.
The underground U and overground S trains and the trams can all be boarded with a 24-hour, 48-hour or 72-hour ticket, which is the best value if you plan to travel around a lot. Individual journeys cost €2.60, so for any more than 3 single trips in a day is worth buying the day or multi-day ticket.
Where to Eat in Vienna
There are tons of great restaurants in Vienna, check out my other post on what to eat in Vienna for more details. Once you've decided on your itinerary you can find nearby restaurants. My favourite places to eat in Vienna were the Naschmarkt for Turkish specialities, and Café Central, which is touristy but the wiener schnitzel and delicate cakes were to die for!
Alternatively, If you're after a quick snack on the go you can also grab a Viennese sausage at any fast food kiosk around the city. Some say that an essential stop on any Vienna itinerary is the Café Sacher for the famous Sacher Torte chocolate cake, however, I preferred the sachertorte at and Café Demel which was less dry.
Where to Stay in Vienna
Like many cities, you pay a premium for staying right in the city centre, and you get a lot more for your money staying just outside the centre. I love being around the Naschmarkt food market as it is close to town and you are right next to the market for tasty food whenever you want it!
Hostels in Vienna
I stayed at Wombat's Vienna Naschmarkt hostel, which is a fabulous option for backpackers and budget travellers, with dorm rooms and private rooms available. You can read my full review of Wombat's Naschmarkt here.
Wombat's Vienna Naschmarkt is right next to the Naschmarkt which is Vienna's largest market, and a great place to get a bite to eat any time of the day. There is a bar where you can meet other travellers, and an all-you-can-eat buffet breakfast for a couple of euros extra, which is well worth it to fill up for a day's sight-seeing. It is clean, safe and a short metro ride or 20 minutes' walk to Stephansplatz in the centre of Vienna. You can book directly on their website here or check out the reviews on Hostelworld here.
Alternatively, you can check out all of the hostels in Vienna here.
Hotels in Vienna
There are a lot of hotels in Vienna to choose from, but most in the city centre are quite expensive. Hotel Kaiserhof Wien is close to Naschmarkt and gets excellent reviews while offering decent rates. However, if you are coming to Vienna for a special occasion and want to splurge then the Hotel Sacher is tough to beat for luxury and location! Check availability at all hotels in Vienna on HotelsCombined.
Airbnb in Vienna
There are plenty of options for Airbnb in Vienna like this beautiful apartment close to Naschmarkt and Kalskirche, or this private room in a family home is perfect for solo female travellers.
If you have never used Airbnb before, use this link to sign up & get up to $52 credit to use on your first trip! Read more about the Airbnb first time discount code and my full Airbnb guide or click below for your Airbnb coupon.
Do you have any other suggestions for things to do in Vienna for this Vienna 2 day itinerary? I'd love to hear them, please leave your comments below.
If you're looking for travel insurance for your trip to Austria, get a quote now from World Nomads.
You may also like these Vienna posts:
Or click here to read all of our Austria blog posts.
Like this post? Pin it to read later:
I stayed at the Wombat's Hostel as part of the #WombatsTraveller project. I had a complimentary stay at Wombat's Hostel and planned my own itinerary and activities while I was there.
Open this in UX Builder to add and edit content
Open this in UX Builder to add and edit content
Open this in UX Builder to add and edit content