Sintra is a magical place. Over the years, the hills of Sintra have seen Portuguese royalty, Moorish princes and eccentric millionaires all leave their mark, creating the beautiful palaces and castles in Sintra. There is so much to see here you can't possibly see everything in a day trip to Sintra, so I've summarised what you need to know about the castles of Sintra to help you decide what to see!
*This site contains affiliate links. If you click through the links on this page and make a purchase, I may earn a small commission. As an Amazon Associate I earn from qualifying purchases. Thank you for supporting Tales of a Backpacker.[Learn more]
Castles in Sintra: Know Before You Go
How Long to Spend in Sintra
Sintra is a popular day trip from Lisbon, but if you only take a day tour to Sintra, you won't see everything. I suggest spending at least one night (or two) in Sintra, so you have plenty of time to explore. One day just wasn't enough for me, and I was glad I had an extra day.
There are lots of options for taking a day tour to Sintra from Lisbon if you only have enough time for a day trip. Decide which parts of Sintra you want to visit and choose an itinerary to best suit you.
A lot of tours also include a trip to Cabo da Roca and Cascais, but this means less time in Sintra so choose your tour carefully. These are some of my favourites:
Buy Your Tickets Online
Buying your ticket online not only gives you a 5% discount, but you also get to skip the queue to buy tickets at the gate. There may still be a queue to actually get inside once you have bought your tickets, but if you go early enough (aim to be there before the gates open) you can be one of the first through the door.
If you plan to visit several of the castles in Sintra, a combined ticket could be a good option for you, but it is only available from the ticket office, not online. Combined tickets offer a 5% discount for 2 sites, 6% discount for 3 sites, up to 10% discount for 6 sites. The combined tickets are valid for 30 days, so if you plan to spend a long time in Lisbon or Sintra they can save you some cash.
Which Sintra Castles to Visit
All of the castles and palaces in Sintra are part of what is known as the "cultural landscape of Sintra" a designated UNESCO World Heritage site. In this post I've included a summary of each of the castles in Sintra so you can choose your favourites to visit, depending on the amount of time you have to spend here.
I chose to visit three of the palaces and castles in Sintra; Pena Place, the Moorish Castle and La Quinta de Regaleira. I didn't have time to visit everywhere I wanted, but I was pleased with my choice.
Pena Palace is the most famous palace in Sintra, whereas La Quinta de Regaleira has become much more popular thanks to Instagram viral photos of the Well of Initiation. The Moorish Castle was my surprise of the trip though; I nearly didn't visit as I was exhausted. However, I popped in after a full day at Pena Palace and was rewarded with a stunning sunset.
Palaces and Castles in Sintra
Pena Palace and Park
Pena Palace is the most famous castle in Sintra, and the one you'll see on all the guidebook photos. The brightly coloured red and yellow towers are visible for miles around, as the castle is high on the hillside and the gardens include the highest point in Sintra.
READ MORE: The Best Views of Pena Palace
You have two options for visiting Pena Palace and Park, you can choose to just enter the park and the outside terraces of the Palace for €7.50, or pay full price of €14 to go inside the castle and the gardens. Being ever the cash-strapped backpacker, and not particularly bothered about the inside, I chose the cheapest option and spent several hours pottering around and exploring the castle from the outside.
Although I have seen some beautiful pictures from the inside, it seemed a lot to pay so unless you have a particular interest in historical architecture and furnishings, I would say there is more than enough to see from the outside.
With the cheaper ticket you can visit the castle courtyards and get up close to the red and yellow painted towers. Don't miss the walk around the castle walls which has beautiful views over Sintra and the Moorish Castle.
Pena Palace Gardens are wonderful to explore. If you are just taking a day trip to Sintra, try to make time to explore at least some of the gardens. Most tours to Sintra won't give you time to wander around, but you can find some beautiful views of the castle if you have time.
The Moorish Castle in Sintra
El Castelo dos Mouros is on the hill opposite Pena Palace, and the main draw here is the views. You can walk all around the castle walls to see the beautiful coastline, and Pena Palace, as well as Sintra Palace, La Quinta de Regaleira and more.
There isn't much left of the Moorish Castle, which was built in the 10th century, following the conquest of the Iberian Peninsula by the Moors. just the remains of the walls which you can walk along and admire the views.
There are steps up to the castle wall, although there is a section which is accessible without steps. There is also a small museum which exhibits some of the artefacts found in the castle.
The Moorish Castle is a perfect place to watch the sunset, as it is quieter than during the day once the tour groups have left, and you can watch the light change as the sun dips behind the horizon.
Depending on the time of year you may not be able to see the sun actually set as it goes behind a hill, but in January I had a perfect view with the sunset and Pena Palace in the same shot.
Entry to the Moorish Castle costs 8 euros for an adult ticket, with discounts available for young people, seniors and families.
La Quinta da Regaleira
Not strictly speaking a castle or a palace, this beautiful house and bizarre gardens are often counted among the castles of Sintra because they are worthy of any member of royalty. However, it is only recently that the house has become popular to visit, since the appearance on Instagram and social media of the 'Well of Initiation'.
The house was built between 1904 and 1910 and belonged to Viscondessa da Regaleira. It was bought by António Augusto Carvalho Monteiro who commissioned the unique project of house and landscape from the Italian set-designer and architect Luigi Manini who created this magical place.
The house conjures up images of a magical palace, while the gardens provide lots of mysterious areas to explore. Don't miss the Well of Initiation, or the climb to the top of the Regaleira Tower for views of the Moorish Castle and surrounding countryside down to the coast.
An hour is probably sufficient to see the best bits of the gardens and to pop inside the house. The upper floors were closed for maintenance when I visited so there were just a few rooms open. For me, the garden & the outside of the house were the highlights. You can pick up a map of the house and gardens at the entrance, or download it here.
Entry to La Quinta da Regaleira is not included in the combination ticket for the other castles in Sintra as it is privately owned. Adult tickets cost 10€ per person, and there are various discounts available. If you prefer to take a guided tour, tickets are 15€ including the tour.
The National Palace of Sintra
The National Palace of Sintra is in the centre of Sintra, and easily reachable on foot from the train station. The castle was the residence of the Islamic Moorish Taifa of Lisbon rulers of the region, and was one of two Moorish Castles in Sintra – the other up on the hill is still known as the Moorish Castle.
None of the original castle remains today, although the current National Palace of Sintra was built in the Middle Ages and enlarged in the 1600s, and today is more or less the same as it was then, in terms of the building itself.
The castle is a blend of Gothic, Manueline, Moorish, and Mudéjar architectural styles, and is an important historic museum. However, as I am not a huge fan of going inside castles and buildings like this, I decided to skip it. If you are interested in the historical buildings and seeing how royalty lived, then it is a must for you.
Entrance to the National Palace of Sintra is often included on Sintra tours from Lisbon. If you visit independently, adult tickets are 10€ each, with discounts available for youths, seniors and families.
The Park & Palace of Monserrate
The Palace of Monserrate was not built for royalty, but the beautiful house is certainly fit for a king! The building combines Gothic, Indian and Moorish influences together with exotic and plant motifs which are harmoniously blended with the exterior garden.
The gardens are well worth exploring and are arranged in geographical areas. You can see plants from all around the world here and feel like you are travelling through the collection of plants from Australia, Mexico, Japan and others.
Entry tickets to the palace and gardens cost 8€ for an adult, with discounts available for youths, seniors and families. The Park of Monserrate is a partner of the Royal Horticultural Society and provides free entry to RHS members.
National Palace and Gardens of Queluz
Queluz Palace and Gardens are in the Sintra municipality, about halfway between the town of Sintra and Lisbon. The palace is best visited on a day trip from Lisbon, or perhaps on a pitstop while travelling between Lisbon and Sintra.
The Palace of Queluz was built in the 18th Century, and is a beautiful Rococo style palace, often referred to as the Versailles of Portugal. The Palace was initially conceived as a summer residence but became the royal family's preferred place for their leisure and entertainment and the permanent home of Queen Maria I and her consort King Pedro III from 1794 until 1807.
You can choose to visit just the gardens, or pay extra to go inside the palace to see the beautifully restored rooms. Adult tickets are 5€ for the gardens or 10€ for the gardens and palace, with discounts available for youths, seniors and families.
Which castle in Sintra will you visit? If you have a favourite, let me know! I'd love to hear your thoughts, please leave your comments below.
How to Get to Sintra
Getting the Train from Lisbon to Sintra
The train to Sintra is by far the easiest way to get to Sintra from Lisbon. Trains run regularly on two lines to Sintra, one from Lisbon Rossio Station and the other from Lisbon Oriente Station via Entrecampos and Sete Rios.
The train journey to Sintra takes about 40 minutes and run about every 10 to 20 minutes throughout the day from both stations. Check the train times online before you travel, the trains are less frequent on Sundays but still run every half an hour or less. The first train from Lisbon leaves Rossio train station at 05.41am, and the last train back to Lisbon Rossio departs Sintra at 00.20am.
Buy your train tickets on the day of your journey from the ticket machines at the station in Lisbon, it costs €5 for a return ticket, including the €.50 for the reusable card, or €2.25 each way if you have a card already. The return ticket is valid for several days, so if you plan to spend the night in Sintra you can still buy a return.
Bear in mind that if you only buy a single, there is only one ticket machine at Sintra Station, so if there is a queue you may have to wait a while to be able to get your ticket back to Lisbon!
By Bus
There is a bus to Sintra from Lisbon, but it takes longer than the train and getting to the bus stations is less convenient than the train, so taking the train is by far the best way to get to Sintra from Lisbon.
By Car
Parking is not good in Sintra, so I don't recommend this as the best way to get to Sintra. Public transport and Sintra tours are plentiful so you don't have to drive. However, with a car, you could then explore more of the coastal areas much more easily than with public transport.
A Sintra Day Tour
As I mentioned earlier, there are lots of options for taking a day tour to Sintra from Lisbon if you only have enough time for a day trip. Tours generally include transport from Lisbon and back and visit a couple of the castles in Sintra then call at Cabo da Roca and Cascais on the way back to Lisbon.
Once you have decided which Sintra castles you want to visit, and how much time to spend there, you can choose the best tour for you. Here are some suggestions:
Transport in Sintra
Walking
The road up to Pena Palace is fairly quiet in the morning, but it is a quite a steep walk uphill all the way, and at the end of the day after walking all around the Pena Palace Gardens and the Moorish Castle I was exhausted!
By Bus
The 434 Scotturb bus runs from next to the train station up to the hills of the Serra de Sintra and the Palácio Nacional da Pena and the Castelo dos Mouros. The 434 bus service is frequent (about every 20 minutes or so) but there can be long queues in peak season. A ticket costs €6.90 and the bus departs from outside the train station.
By Tuk-Tuk or Taxi
If you don't want to wait for the bus, there are plenty of tuk-tuk drivers waiting around the station and in the centre of Sintra to take people up to Pena Palace. However, they cost significantly more than the bus so it's up to you to decide if it is worth it. I walked up and took a tuk-tuk taxi down for €5 as there was one waiting outside and I couldn't face walking any more!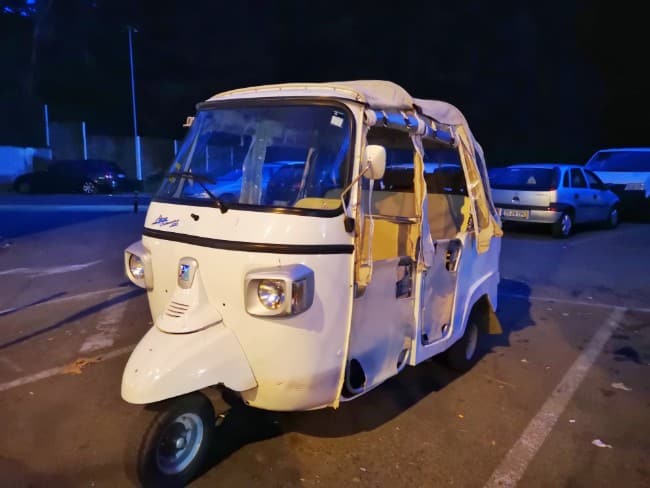 Where to Stay in Sintra
There are more than enough things to do in Sintra to keep you busy for two or three days – and way more than you could possibly see in just a day trip. Spend the night here to enjoy the city when the bulk of the tourists have left, and you won't regret it.
Hostels in Sintra
There are several hostels in Sintra where you can spend the night without breaking the bank. Casa Azul hostel gets great ratings and has dorms and private rooms, as does the Five House, a family-run B&B which has a dorm room as well as well-appointed double rooms.
Hotels in Sintra
There are plenty of hotels in Sintra to choose from as well, including the highly reviewed Sintra1012 Boutique Guesthouse, a small bed and breakfast right in the centre of Sintra town. Sao Miguel Guest House also gets excellent reviews, and although it is more expensive there is a massage and beauty centre on-site so you can pamper yourself after a day's sightseeing!
Airbnb in Sintra
I chose to stay in an Airbnb in Sintra, and really enjoyed spending time with my host, who took me to Cabo da Roca and several beaches along the coastline. You could do this yourself with a hire car but exploring any more than Cabo da Roca and Caiscais is hard without your own transport. There are plenty of rooms to rent on Airbnb, like this bright apartment with amazing views, or this gorgeous cottage. >>>Check out all the options on Airbnb.
If you have never used Airbnb before, use this link to sign up & get up to $40 credit to use on your first trip! Read more about the Airbnb first time discount code and my full Airbnb guide or click below for your Airbnb coupon.
If you're looking for travel insurance for your trip to Portugal, get a quote now from World Nomads.
Like this post? Pin it to read later:
Just to let you know, this post may contain paid or affiliate links, which help to maintain Tales of a Backpacker and give me the chance to keep travelling, and to keep creating awesome content for you!
Tales of a Backpacker is a participant in the Amazon Services LLC Associates Program, an affiliate advertising program designed to provide a means for sites to earn advertising fees by advertising and linking to Amazon.com. I only recommend goods and services I believe are useful and reliable.
Last updated: April 3, 2021