Trinidad is a beautiful town and an extremely popular destination in Cuba. Trinidad was probably my second favourite destination in Cuba, after Viñales and although it is extremely touristy it still felt small and accessible, and not overtaken by tourism. Even though you will get approached almost constantly to eat in someone's restaurant or drink their 'best mojito in Trinidad', if you say you have already eaten they tend to leave you alone. What I really liked about Trinidad was if you said you were looking for a specific restaurant to eat, the kind locals would direct you to the right place, not just shepherd you into their restaurant. Here are some of my favourite things to do in Trinidad, Cuba.
This website contains sponsored and affiliate links. If you click through the links on this page and make a purchase, I may earn a small commission. As an Amazon Associate I earn from qualifying purchases. Thank you for your support. [Learn more]
Things to Do in Trinidad
What to do in Trinidad – Get a Special View
The best views in town are from the bell tower in the Municipal History Museum close to the Plaza Mayor main square. The $2 CUC entry fee is fair for the museum, although the exhibits are poorly explained, with limited signage in Spanish and very little in English. There was, however a section with paintings from local artists, some of which were simply stunning. Dotted all around the museum were ladies crocheting and sewing gifts to buy. On the floors leading up to the viewpoint, you will also find souvenir shops selling t-shirts, magnets, maracas and plenty of books about Che and Fidel. The stairs up can be a challenge – make sure you don't cross someone on the way down as there is only space for one person at a time! The view is worth the $2 CUC fee alone.
What to do in Trinidad: Wander Around and Enjoy.
Trinidad is small enough to easily walk around, although with many streets of cobblestones leave your high heels at home and opt for comfy sandals. The [amazon_textlink asin='1786571498′ text='Lonely Planet Guide to Cuba' template='ProductLink' store='talesofaback-20′ marketplace='US' link_id='153d0997-4a2f-11e8-ac2d-1f262356d857′] suggests a pleasant scenic walk to take some of the best photos of the city, and with gorgeous colonial buildings, and plenty of locals just living their lives, you won't be short of photo opportunities here. A perfect place to end your afternoon is the steps by the Casa de la Musica, where you can watch the world go by while listening to the live music every evening. This is one of the only places to find a wifi signal too, so don't be surprised to see locals & tourists alike glued to their phones.
Things to do in Trinidad at Night: Party on!
Nightlife in Trinidad Cuba is buzzing, with live music in practically every bar and restaurant in town. On the weekends, Casa de la Musica has free live concerts, on other nights you may have to pay a $1 CUC entrance fee to see the stage, or just sit on the steps below to soak up the ambience. Trinidad's famous cave club Las Ayalas, more commonly known as La Cueva, is a nightclub inside a large cave. To get there it's an interesting walk up the hill to the left of the church in the main square. You'll know you're on the right route when you see the bars set up outside people's houses providing mojitos for the road!
YOU MAY ALSO LIKE: The Best Cuba Itinerary for 2 Weeks in Cuba
There is a $5 CUC entrance fee to La Cueva, which includes a drink at the bar. After that, mojitos cost $3, and beers are cheaper. The music is varied, from salsa and bachata early in the evening, leading up to reggaetón, and pumping Latin dance & house music. The downside is that there is no air-conditioning in the cave so it can get sweaty (it is a cave after all!). The downside is that you are expected to pay to use the bathroom, I gave 50 cents the first time, then they didn't bother me again. Or you may get away with staggering past drunkenly! Going to 'The Cave' is somewhat of a rite of passage for any visitor to Trinidad. Even if clubbing isn't your thing, go early just to get a sneak peak.
Day Trips from Trinidad Cuba
Horse-riding in Trinidad
The most common day trip from Trinidad is a horse-riding excursion up into the hills, passing by an entertaining coffee & cigar stall, and ending at a pretty waterfall and natural swimming pool. You can buy drinks at a stand by the waterfall, but there is no food here so bring a picnic or snacks if you can. On the way back to town some tours will stop off at a restaurant where you can try pressed sugar cane juice and order food if you like; I just tried the juice though so I can't comment on the quality of the food.
We paid $20 CUC for our tour, including entry into the national park. Some prices were offered as low as $10 CUC but didn't include the entry fee or stops along the way, and others paid $25. It wasn't clear how much the entry fee was; somewhere between $6 and $10 CUC is my best guess. As with all other prices in Cuba, everything is negotiable! One thing to bear in mind is that the care of the horses varied quite a lot. Ours seemed to be in good condition, but others clearly weren't – if possible ask to see the horses before you buy the tour.
Cubanacan also arranges tours further into the Tope de Collantes park to visit more waterfalls, but we were happy with our horse-riding and didn't feel the need to visit another waterfall. With more time to explore or for nature lovers this would definitely be worth a visit.

Beaches in Trinidad Cuba
Playa Ancon is one of the most famous beaches in Cuba; a long stretch of white sand just 40 minutes' bike ride from Trinidad. However, when we were there a short way from the shore the water was clouded with algae so it wasn't as pristine as we had hoped. The best of the beaches in Trinidad is the quieter beach of Maria Aguilar on the road to Playa Ancon, about 300 meters passed Grill Caribe restaurant. We hired bikes & snorkel gear from our Casa particular in Trinidad and headed out along the flat road (although it was a little bumpy in places). It took us around 25 minutes from our casa in Casilda to reach the beach, and it was definitely worth the ride. We left our bikes parked with an attendant there, who charged $1 CUC each for the day to watch the bikes. This also included rent of a sunshade, which is usually $1 CUC anyway, so I felt we got a good deal!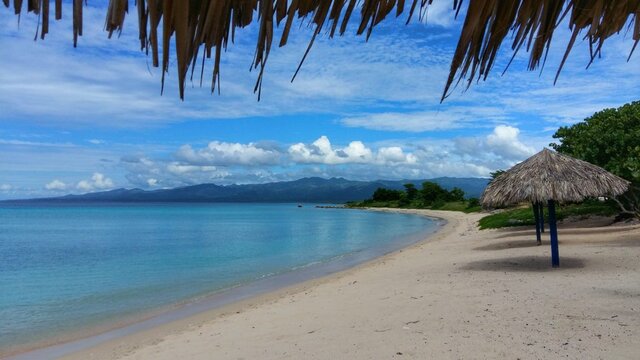 The water was crystal clear, and visibility was perfect for snorkelling. Even right by the shore little fish darted around our feet. Part of the beach at the left-hand side had more rocks and lots of spiky sea urchins though, so watch your step. With a snorkel mask, it's easy to swim over them and get a closer look though, there were hundreds below me as I floated along. If you head into deeper water you will find coral and some deep channels where we saw a barracuda and some large conch shells on the seabed.
Restaurants in Trinidad Cuba
My favourite restaurant in Trinidad is La Botija. I'd grown tired of cheap pizza and pasta, and this place rustled up something different – from crab toast to a huge hanging kebab. You can choose a couple of smaller tapas style dishes to share, or plump for the main courses. One afternoon it rained heavily and I grabbed a seat inside and waited out the storm. The service was good, and the food too, so I'd say this is one of the best restaurants in Trinidad Cuba.
The downside of Trinidad being such a popular place to visit in Cuba is the prices. The restaurant meals are close to European or American prices but the quality rarely matches up to the prices. Sol Ananda, La Redaccion and Restaurant San Jose get good reviews on Tripadvisor, and Cafe Don Pepe is a good place to go for a coffee. I personally found Cubita to be overrated, but perhaps I was just tired of paying over the odds for food here!
Where to stay in Trinidad Cuba
We stayed outside the city in Casilda, a small village between Trinidad and Playa Ancon. My travel buddy had pre-booked the room through Airbnb, and the casa was lovely, and in a great location to cycle to the beach. However, at night it was difficult to get back from Trinidad, and we ended up almost stranded trying to find a bici taxi or car to take us home. If you only plan to visit Trinidad during the day, and return after dinner this would be fine, but for any late-night activities, I strongly recommend staying in Trinidad. Check the available options on Airbnb. If you have never used Airbnb before, use this link to sign up & get $30 credit to use on your first trip!
GET $30 AIRBNB CREDIT
Where to go After Trinidad
Santa Clara is a common stop before or after Trinidad, as it is only a couple of hours away. We arrived in Trinidad in a shared taxi from Cienfuegos; there were plenty of people going the same way so we haggled for $5 CUC each for a colectivo.
For those heading further South to Camaguey or Santiago, Viazul buses run relatively regularly. Sancti Spiritus is only an hour away from Trinidad, but colectivos for foreigners are hard to find, as it isn't a popular tourist destination. I ended up paying $15 CUC for a colectivo, after haggling hard, but the Cubans in the taxi paid a fraction of what I did. It is possible to take a colectivo from Trinidad to Viñales, our casa arranged it for one girl and it only cost $25 CUC which is a bargain! I took the bus a couple of days later and paid a similar amount, and had to spend the night in Havana. Check out this Cuba itinerary for more ideas of places to visit in Cuba.
Have you visited Trinida? Do you agree with this list of things to do in Trinidad Cuba or have I missed something? I'd love to hear what you think, please let me know in the comments below.
If you're looking for travel insurance for your trip to Cuba, get a quote now from World Nomads.
Like this post? Pin it to read later:
You may also like:
Why Cienfuegos Should be on Your Cuba Itinerary
Just to let you know, this post may contain paid or affiliate links, which help to maintain Tales of a Backpacker and give me the chance to keep travelling, and to keep creating awesome content for you!
Tales of a Backpacker is a participant in the Amazon Services LLC Associates Program, an affiliate advertising program designed to provide a means for sites to earn advertising fees by advertising and linking to Amazon.com. I only recommend goods and services I believe are useful and reliable.
[lastupdated]